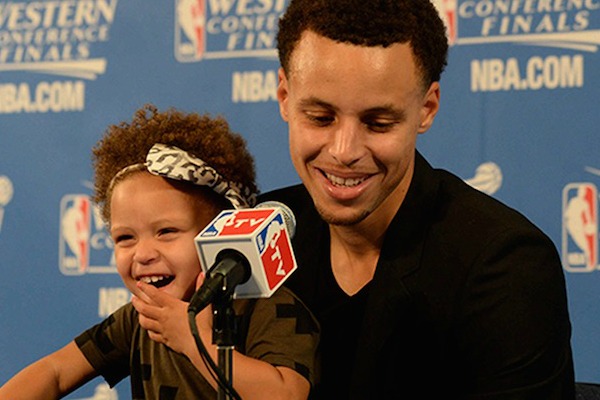 NBA MVP Stephen Curry made headlines last night for bringing his 2-year-old daughter Riley to the podium with him for his post-game press conference, after his team beat the Houston Rockets in game 1 of the Western Conference finals. 

As you can see, Riley was HYPE! She was full of energy (man, what time was the game over?) and ready for some Daddy time, which is probably why she was up there to begin with.
As the video has made the rounds today, some folks shared with a "Aww, how cute!" while others (Grinches) were insistent that since Curry makes his living shooting hoops, his daughter should have been elsewhere while he spoke to reporters.
My response to that? His team won the game, didn't they? He scored 34 points, didn't he? It seems to me like Curry knows how to do his job, both on and off the court, even with a little mini-me crawling around by his feet.
This video just illustrates how little kids DO NOT CARE who you are or what you do. You are MOMMY or DADDY and that is it! "F' yo press conference, Daddy! Let's play!" It's developmentally appropriate for them to only recognize your one role.
But more than that, this video is a bold representation of fatherhood in action. I follow both Stephen and Ayesha (hi Ayesha!) on Instagram and love their little life. (Have you seen Ayesha's blog?) I spoke to Ayesha a few years ago, before her husband seemed to appear in every third commercial on TV, but I never forgot how warm and caring she was. She is content in his space, but he is also content in hers.
Having Riley up on at the table with him is not unprofessional. He's a dad. Sometimes your kid wants you and that comes first. The reporters might not have gotten all of the questions they wanted answered, but they got something else — a trending story about an adorable little girl who loves her daddy.
What's your take? Do you think Riley should have been with her mom, or did you think it was cute that she was up there, stealing the spotlight from her dad?