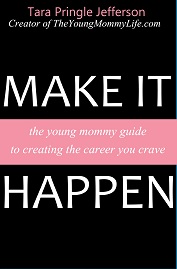 MAKE IT HAPPEN: THE YOUNG MOMMY GUIDE TO CREATING THE CAREER YOU CRAVE
When I found out I was pregnant with my daughter in 2006, I was overwhelmed. Actually, that's probably the biggest understatement of my life. I was terrified and had no direction.
Do I work? Should I be a stay-at-home mom? What do I do about school? Should we (my boyfriend and I) get married? Where will we live? And so on and so on.
But every pregnancy book and mommy "how-to" guide approached the topic from a fairly one-dimensional viewpoint: they assumed all moms were married, with a six-figure job, a four bedroom house, and a host of family and friends who were completely over the moon about the new addition to the family.
Well. That wasn't my experience at all.
Since I couldn't find that book or that magazine that I could relate to, I created it myself. In May 2011, the first of five books, Make It Happen: The Young Mommy Guide To Creating The Career You Crave, hit the web, available in a variety of formats for your pleasure. It is available in paperback or as an ebook.
THIS IS HOW WE DO IT: A SURVIVAL GUIDE  
Half tips, half relatable stories, This Is How We Do It features essays from eight moms on how to make the most of every day. With a variety of experience (some raising toddlers, others wrangling teenagers), they've seen it all and learned to laugh about it. I served as editor and wrote one of the essays for the project. This is the first group ebook from TheYoungMommyLife.com, dedicated to helping young mothers become self-sufficient through the power of their voice.
Can't wait to hear from you! Have any questions? Contact me.