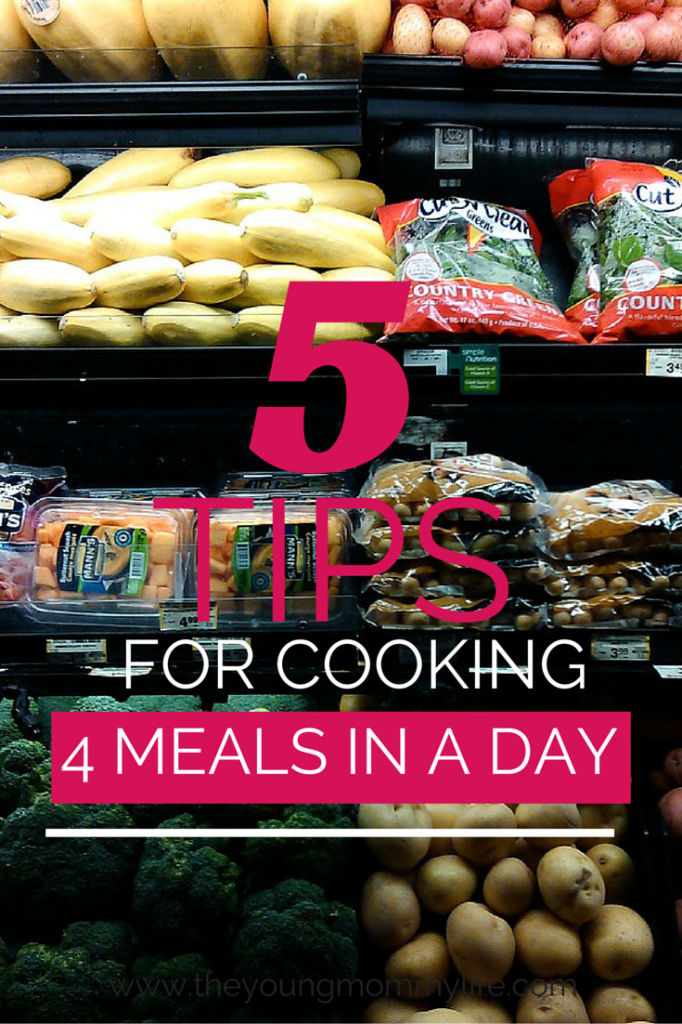 It's hot outside and I don't know about you, but I don't feel like heating up my kitchen every single day. By the time I get done making dinner, it feels like it's dinnertime again! Didn't they just eat?
About once a month or so, I set aside time to cook 3-4 meals at a time. It helps me free up time during the week so that I'm not wondering what's for dinner at 5:55 p.m. and end up ordering pizza. I've done this off and on all year and I love it. My family loves it too, because it means dinner is ready earlier and now I rarely, if ever, burn dinner. LOL! Here are my tips if you'd like to try cooking for the week in one day:
1. Cook on the day you grocery shop. 
You're already moving a ton of stuff in and out of your fridge and if you just bought a ton of meat, you don't have to worry about defrosting it and waiting for ingredients to be ready. Everything is already there.
2. Merge the same ingredients into different meals.
For instance, I will plop 4-5 pounds of bone-in chicken breast in the slow cooker until it's fork tender. Then, I shred the meat and I have cooked chicken ready for whatever recipe I want. You could toss it in some BBQ sauce for BBQ chicken sandwiches, or make tacos or a casserole. The possibilities are endless. Here's a menu I did recently:
Sunday: Roasted chicken and potatoes with green beans (this one-pot meal is my favorite)
Monday: Italian turkey meatballs, orzo and broccoli
Tuesday: Tacos
Wednesday: BBQ meatloaf muffins with mashed potatoes and green beans
You see how it could work? You're roasting the chicken, the meatballs and the meatloaf muffins at the same time, while you brown the meat for tacos on the stove top. It will probably take you about 40 minutes to get everything in the oven, and then 15 minutes to brown the taco meat. Boom. While the meats are cooking in the oven, make the mashed potatoes and veggies. In about an hour and a half, you could be done with dinner through Wednesday. How cool is that?
3. Remember not all foods taste as good on the second day.
If you're having baked fish that week, let that be the first meal you eat. You wouldn't want to save that for Wednesday if you're making it on Sunday. If you're making spaghetti, that's a meal that tastes great when reheated, so you could make that for the end of the week. Soups, stews, and casseroles are great for making ahead of time and finishing off the day you want to eat it.
4. Cook in bulk.
If you're already elbow deep in cooking, why waste time later making the same dish? For example, if you're making meatballs for dinner, make 10-15 extra for a second meal. If you're cooking rice, double the amount and freeze it for later. Maximize the time you spend in the kitchen so you can free up your time to do other, more important things, like actually eating the food.
5. Reheat like a pro.
I find that most items taste better reheated on the stove or in the oven than in the microwave. That's just my preference. If you don't like the way reheated food tastes, you can always just do a head-start on your meals. Instead of cooking everything, you can chop all the ingredients and put them together in Ziplock bags or Tupperware and cook them each day. You'd still be saving time and you'd get that day-of flavor you want!
Anyone else try to cook multiple meals at once? What are some of your tips?