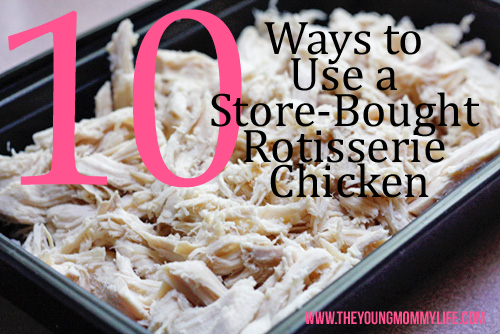 This semester has been a beast in terms of how much time it's taken up and how many major projects are due within days of each other.
This has consequently left me with very little time to make dinner every night and as a result, I've been turning to an old standby—the rotisserie chicken at the grocery store.
I used to think it was a rip off because anything that's precooked is usually marked up in price. But after some examining, I realized that the whole, uncooked chickens at my grocery store are usually the same price or a dollar more than the already cooked, ready-to-go version. I can usually get one for about $5 at my store, but sometimes they are a bit more or a bit less.
Here are 10 ways to use a store-bought rotisserie chicken that'll help you get dinner on the table that much faster! Each recipe begins with all the breast meat shredded (about 2.5-3 cups). You can also use the dark meat if you prefer.
1) BBQ chicken sandwiches: Saute onions and peppers in a skillet in a tablespoon of oil. Add BBQ sauce and simmer for 2 minutes. Add shredded chicken and toss to coat.
2) Chicken salad: There are so many variations on chicken salad. I have my eye on the BBQ chicken pasta salad at the link.
3) Honey mustard chicken sandwiches: Same as #1, but instead of BBQ sauce, add 1/2 cup dijon mustard and 2 tablespoons honey (or 1/2 cup of honey mustard sauce).
4) Chicken and rice: Add onions and whatever veggies you prefer to a skillet with a tablespoon of oil. Saute until tender. Add the chicken and a jar of chicken gravy (or make your own). Pour over rice.
5) Curry chicken: Add 2 tablespoons curry paste to the skillet; add 1 teaspoon of water to thin it out. Add chicken to coat.
6) Lemon chicken orzo soup: Bring 2 cups chicken broth to a boil. Add 1/2 cup orzo (rice-shaped pasta) and cook for 6 minutes. (Pasta will continue to cook as long as broth is hot!). Add shredded chicken and whatever seasonings you like (I like lemon-pepper seasoning blend). Then add a tablespoon of lemon juice. I eat this all the time when I'm sick.
7) Chicken enchiladas: Couldn't be easier.
8) White chicken chili: Heat oil in a large saucepan over medium-low heat. Slowly cook and stir 1/2 cup of onion until tender. Mix in garlic, jalapeno, green chile peppers, cumin, oregano and cayenne. Continue to cook and stir the mixture until tender, about 3 minutes. Mix in chicken broth, shredded chicken and white beans. Simmer 15 minutes, stirring occasionally.
9) Chicken and sausage jambalaya: This Food & Wine recipe sounds just about perfect.
10) Macaroni and cheese w/chicken and broccoli: Rachael Ray says it can be done in 30 minutes.
Do you like any of these meal ideas? Add some of your own suggestions in the comments.