Wontons have to be my new favorite food. I hadn't made any in years and now in 2015, I've made them at least 10 times already. The best part about them? Let me count the ways:
They're cheap.At $2.50-$3.50 for 100 wonton wrappers? You can't beat that.
They're fast. They cook up in minutes and if you get your kids to help you fill them, you can have dinner DONE in five minutes.
They're versatile. You can fill them with beef, pork, chicken, shrimp, scallops, etc. Whatever's on sale—use it in your wonton.
They're different. It's easy to get into a rut. Your weekly dinner looks like this: spaghetti, tacos, baked chicken, burgers, spaghetti, tacos, baked chicken….Wontons give you the chance to change it up a bit.
Plus, they can be prepared savory OR sweet. Yes, I figured out how to make a 2-minute sweet potato pie using wonton wrappers and I couldn't be happier. Let's get into the recipes, shall we?
First, the savory:
Tara's Shrimp Wontons With Scallions And Cilantro
This is more of a guideline than a recipe, as you can increase or decrease the quantities depending on what your taste buds prefer 
Ingredients:
1/2 pound shrimp (either raw or cooked, tails off)
1 medium sized red or yellow bell pepper (about the size of your fist)
1-2 stalks green onion
1 bunch of cilantro leaves
1 teaspoon Asian-style sauce (you can use teriyaki, sweet and sour sauce, etc. Just be sure to use something you would eat on its own.)
1/2 cup shredded cabbage (optional)
Salt and pepper
10-12 wonton wrappers
Directions: 
Dice and mix together all ingredients other than the wonton wrappers. Using a small spoon, place about 1.5 teaspoons in the center of a wonton wrapper. Use your finger to moisten the outer edges of the wrapper and fold it over, pressing the edges together. Use a fork to crimp the edges and ensure they stay closed. (If your wonton wrapper tears at this point, it's okay. Just press it together.
Fry the wontons in a skillet with over medium-high heat for 1-2 minutes per side, or until it's golden brown. Your veggies, depending on how small your dice is, might still have a little crunch. That's okay. It's delicious! The finished product: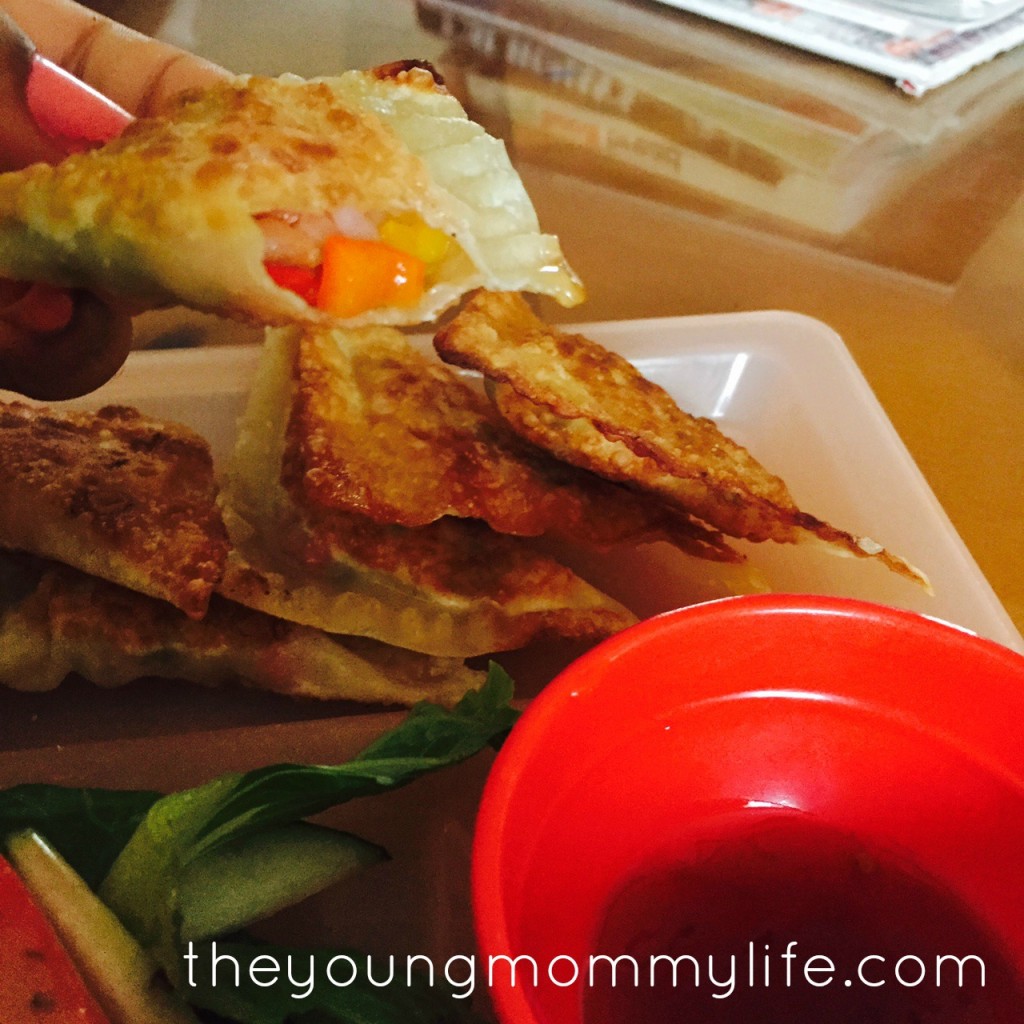 Other recipes include some type of ground meat (chicken or pork) to help bind the filling together. The first time I made shrimp wontons, I didn't have any ground meat, so I skipped it. It's a looser filling, but it's not any worse than Sloppy Joes. I like to serve it with a sweet and sour sauce (Aldi's has a orange ginger dipping sauce that is delicious!). As a side dish, something green always feels right to me. I like sauteed snow peas or even just some steamed broccoli or green beans.