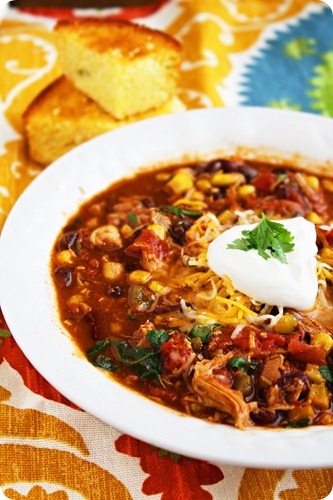 We made it through the first week of school and everyone survived. My daughter is showing this new-found confidence and I'm LOVING it. So, so proud of her, but I'm also glad there's no school Monday so we can spend a little quality time together. I miss her while she's at school, can you believe it? Anyway, here's my menu for the week. I'm doing pretty good with my goal of only going to the store once a week and it's helping my budget tremendously!! I'm hoping I can get all the stuff we need for dinner this week for about $30. We ate out one night last week (I was exhausted), so this week should be pretty simple, with two crockpot recipes and some pre-made turkey burgers.
Monday – Grilling/BBQ
Tuesday – Italian crockpot chicken (There's many variations but here's one I plan on using and tweaking)
Wednesday – Turkey burgers and fries
Thursday – Crockpot chicken taco chili (photo above)
Friday – Sticky shrimp and rice (I'm using my sister's recipe for teriyaki sauce: brown sugar, soy sauce, pineapple juice, garlic, ginger, red pepper flakes)
What's on YOUR menu this week?