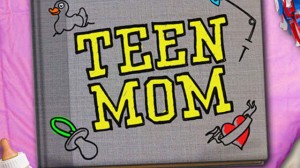 I think so.
At first, I was curious to see what MTV would do with a special about teen moms. Would the cast be diverse? Would they be shown dealing with the hardships of teen parenting but also be guided in their journey to become better mothers?
Eh, not really. We don't have to rehash everything that's gone down over the past few seasons but let's just say it hasn't been mostly positive, which is what I wanted to see. You already know that about me.
I read yesterday that MTV is cuing up Teen Mom 3. And it just made me sad. Because you know I root for every young mother but it seems like MTV doesn't. Granted, they might be making more money on the show than they would be otherwise, but at what cost?
The headlines have been largely negative and people use the show as a cautionary tale versus actually caring that these mothers aren't playing characters. They are living their lives.
It's one thing to have a reality show where all the participants are of age and they are already in the midst of their grown-up, adult lives, but these girls are in their teens, saddled with a ton of new responsibility and fragile relationships and now there are cameras in their face? I mentally checked out of watching Teen Mom after Amber began hitting Gary on camera and the producers just decided that hey, that's okay.
Maybe I'm overreacting. Check out the trailer for season 4 of 16 & Pregnant and tell me what you think.