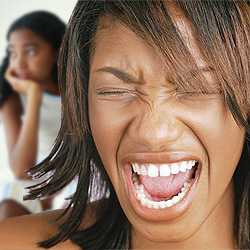 Man, what a rough realization that is.
I am not someone who thrives in this job. I do not wake up bright-eyed, ready to start the day and ready to tackle every little problem or argument the kids roll my way.
Instead, I have to give myself a little pep talk in the mirror before I leave the bedroom and face the day.
For some moms, greeting the little person that emerged from your womb was a life-changing event that forever gave you a new meaning and a new purpose.
That is true for me, except along with that new meaning came an ever-present fear and a pound of stress that feels like a Buick parked on my chest. When I saw my daughter for the first time, I wanted more than anything to put her back in. "Give me another day or so and let's see how it goes then," I wanted to tell the nurses. Because I felt then that I wasn't ready and I was really perplexed at how no one else could see that either.
When I say, now, that I am a great mom, it's really in spite of this ever-present stress. I have to manage it on a daily basis. With kids, you have to always be on, always be ready for whatever's coming, always have to bring your A-game. So many things are out of your control and for a control freak like me, well, it's a living nightmare.
The only way I've been able to manage the stress is to let go…slowly. I used to need things done my way all the time or it could get ugly. Real quick. But now? I'm the queen of the "One day at a time" mindset. On particularly rough days, "one hour at a time."
I realized if I didn't control the stress of being a mom, it would surely control me. I wouldn't be able to be the kind of mom I wanted to be, my kids wouldn't get what they deserved, and my family would surely crumble despite my best efforts.
So I set up some new rules:
I wake up an hour before the kids (if possible). Sometimes I use this time to work out, or read, or just sit on the couch and drink some tea before the day begins. I need that "me" time at the beginning of the day to simply…be me.
I pay attention to my stress triggers AND make sure other people know them, too. If my kids don't learn anything else, they need to know that Mama needs space when she's cooking and she needs quiet while she's doing homework. LOL
I'm no longer afraid to ask (and pay) for help! I've been doing this work-at-home mom thing for a couple months now and it was incredibly stressful because I kept trying to split myself in two. Be the do-it-all, get-it-done-before-deadline consultant AND the super attentive mom who bakes cakes-from-scratch for my husband's potlucks at work.  Ugh, enough of that. I realized I can't be a mom AND get a crapload of work done at the same time. On one particularly bad day it took me close to 30 minutes to write one paragraph-long email. So I asked my sister for babysitting help (AND I even offered to pay her, which she graciously turned down) and quit trying to  impress my husband's co-workers.
Motherhood still stresses me out (I have to keep these kids ALIVE?) but I'm managing. Better than I thought I would, I might add.
How about you? How do you deal with stress?