To say "my husband and I don't get out much" would be an understatement. For one, we're busy. He works incredibly long and strange hours and I handle most of the childrearing while bringing in a hefty paycheck of my own, so we're constantly negotiating when one of us will be home to watch the children. Time together without the children is rare.
So rare, that when Bonefish Grill asked me if I'd like a night out to go try their new menu, it was all I could do to keep my composure.
I asked my parents to watch the kids and off we went! We went to Bonefish Grill to celebrate our anniversary last year, so I already knew their food was going to be good. The new menu features new appetizers, a brand-new selection of bowls (tuna, strip steak, roasted veggies and shrimp!), new steaks and more.
First off, my husband and I had the new Bang Bang Shrimp Flatbread. (I'm going to use the Bonefish Grill photo here because, if you've ever been to Bonefish, you'd know that the lighting is low. Perfect for date night and cuddling in the booth, but horrible for iPhone photography.)
It was delicious! It had just the right amount of kick to it, and I would have eaten all four pieces by myself if I didn't have an entree coming. The waiter told us the sauce had a bit more spice than the regular Bang Bang Shrimp and it was a nice heads-up. I'd definitely recommend you try the flatbread if you go.
For our entrees, my husband tried the new ribeye with Asian peppercorn demi-glace. I asked for a bite of his before I even tried my food because it looked so good! And it was moist and cooked perfectly. Next time we go, I'm getting one.
I got the sockeye salmon with lemon basil butter sauce, spinach and goat cheese. It was one of the daily specials, so I'm not sure if it will be available whenever you go. But it was delicious! I just realized that I got almost the exact same dish the last time we went. I took a bite of my salmon and told my husband, "This tastes different…like, it just came out of the ocean or something." He laughed at me, but I was serious. That fish couldn't have been more than a few hours old. LOL Both times the salmon has been incredible and it was so much food I honestly couldn't finish it.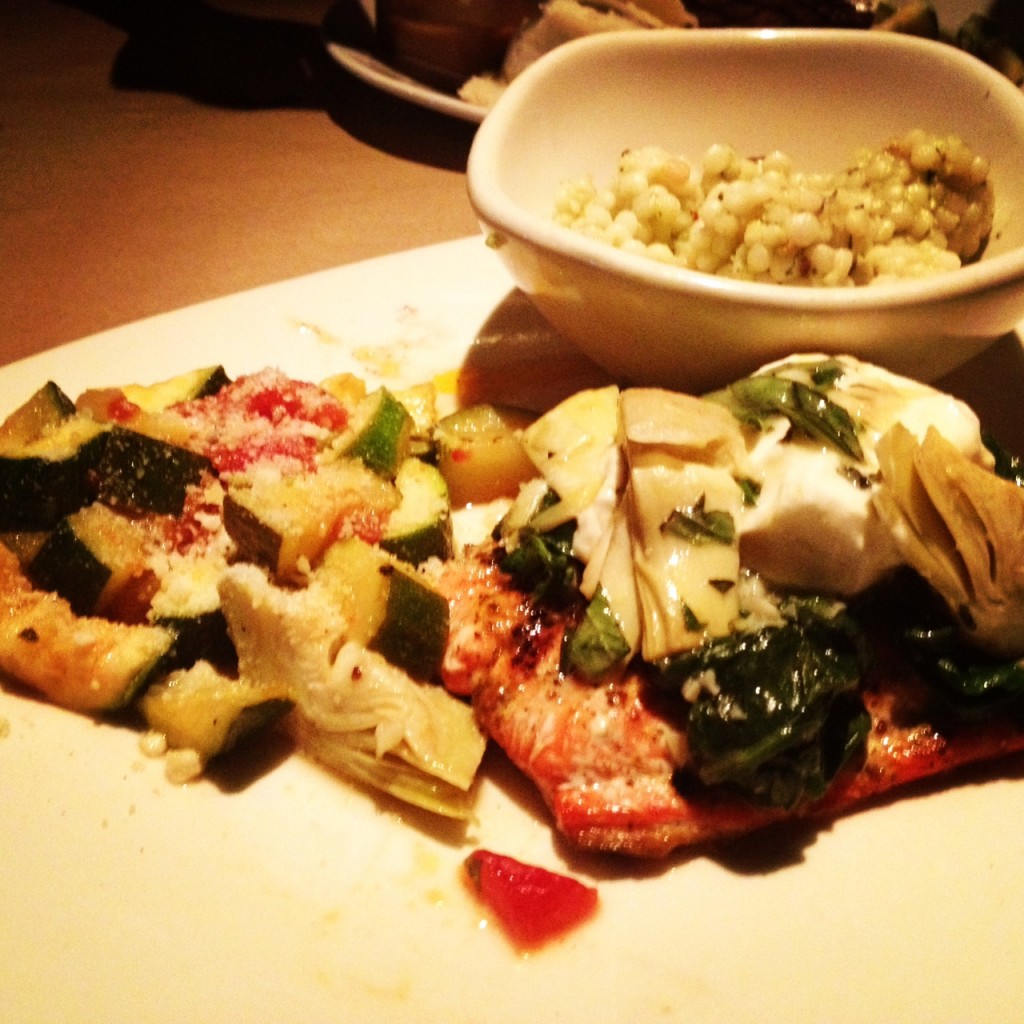 The closest Bonefish Grill is about 30 minutes from us, but it's worth the drive. The food is delicious and fresh without being horribly overpriced and we always receive excellent service while we're there. If you're looking for a new date night spot, Bonefish Grill is it.
 Disclosure: I received a gift card to facilitate this review.  All opinions expressed are 100% my own.