I'm a pretty simple woman. When my husband asked me what I wanted for my birthday, I said a waffle maker. I saw one at Walmart for $15 and figured, why not? My son loves waffles and the frozen ones taste like cardboard.
I was playing around in the kitchen this past weekend and came up with this recipe for pumpkin pie waffles. I had a can of pumpkin puree in the cabinet that I had to keep moving out of the way in order to get to everything else, so I figured, why not just use it? I know it's technically spring and pumpkin pie-anything feels like a fall meal, but it's really, really good. Don't be scared by the list of ingredients. The only thing you might have to go get is baking powder (under $1) and pumpkin puree (about $2).
These were incredible!! I actually eat them plain, but if you'd like a little more sweetness you can dust it with powdered sugar. Make the whole batch and then freeze them for later.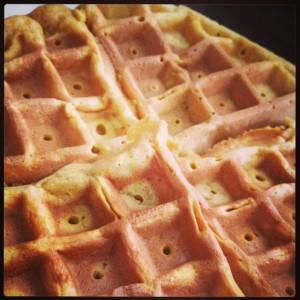 Ingredients
2 cups all-purpose flour
3/4 cup sugar 
3-1/2 teaspoons baking powder
3 teaspoons cinnamon
1 teaspoon nutmeg
2 eggs
1-1/2 cups milk
1/ cup butter, melted but cool
1/2 cup vanilla yogurt
3-4 tablespoons canned pumpkin puree
1 teaspoon vanilla extract
Directions
In a bowl, combine flour, sugar, baking powder, cinnamon and nutmeg. In another bowl, lightly beat eggs and add milk, butter, yogurt, pumpkin and vanilla; mix well. Stir into dry ingredients just until combined.
Bake in a preheated waffle iron according to manufacturer's directions until golden brown.