I keep writing these posts about saving money at the grocery store and people keep asking, "HOW do you do that? HOW do you spend so little money?"
First of all, I had to revamp my thinking. Because I love food, I could easily spend $500 in the grocery store each month. Do we have the budget for that? Sure, if we got rid of a car or took our son out of preschool and got rid of cable. In other words, no, we can't afford that. So I try to stretch our money as much as possible.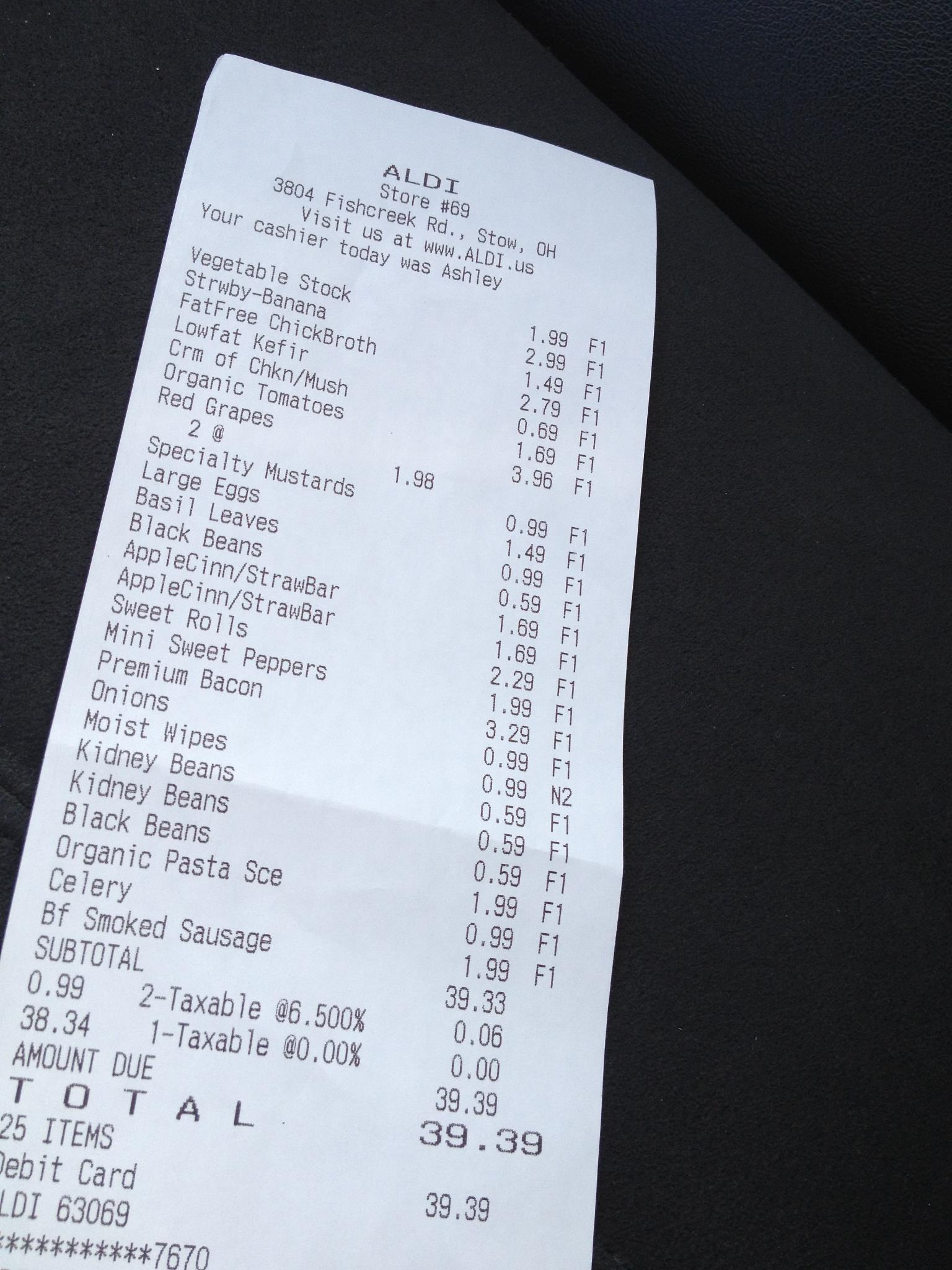 This is my receipt  from my grocery shopping last week. $40 on 25 items (including some $.99 wipes). That and the strawberry-banana smoothie ($3, at the top) were impulse purchases. Everything else was on the list.
First, let me say that there are two approaches I use – buy in bulk or buy at the discount stores. Do both and I average about $40 a week. Other people swear by couponing, but I swear I just don't have the time to match coupons to sales and get items for next to nothing. If I'm buying black beans for $.59 a can, I figure that's as low as it's gonna get for me. LOL
If you look at the list, you'll see that I did not buy a lot of meat. I could have, but as I explained earlier in my post about spending $50 a week on groceries, we go to Sam's Club to buy our meat in bulk. I'd like to be able to one day go to a farm and buy "half a cow" but I'm not quite there yet.
So when we go to Sam's Club, we spend $22 on a 10-lb bag of frozen chicken breasts that will last us about six weeks or so. Makes financial sense, right? We spend about $15 on 2.5 pounds of fresh ground turkey, which I then go home and portion into about 2/3 pounds per bag, giving us about seven meals worth of meat. Again, for $15.
So when I go to the store like Aldi, which is ridiculously cheap, I'm looking for basic items – bell peppers, small container of cream cheese, bacon, etc.
And then I'm done.
But you honestly want to know the biggest thing I've done to save money? Freeze stuff. My husband bought a big 10-pound bag of onions for me and I wouldn't get through them in time before they went bad. So I chopped them all up, put them in freezer bags, and stuffed them in the freezer. I haven't needed to buy onions in months.
If I make a recipe and it calls for half a can of black beans, I just freeze the rest and add it to some chili or sloppy joes later on down the line. By freezing everything, it gives me a chance to extend the life of items that spoil very quickly. (Like bacon! I'm on a quest to freeze my bacon so I don't have to throw it out because I don't use it often enough).
You save money by shopping less often and eating ALL the food you purchase. That's it. No magic solutions over in the Jefferson household.