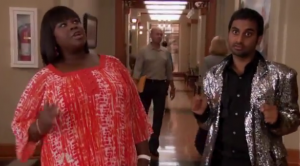 If you do not watch Parks & Recreation, allow me to introduce you to a snippet from one of my favorite episodes. Pay attention, because it's today's challenge:
Day #10 – Plan a "Treat Yo Self" day. 
Now. There's three rules.
1) You must save up for this. It is no fun and really counter-productive if you feel guilty about spending the money that you legitimately need for paying bills, buying groceries, etc. (Join me on the YML Facebook page as I attempt to make some quick cash to finance our family's summer vacay this year.)
2) It must be something out of the ordinary. Taking yourself to get a small latte at Starbucks does not (I repeat, does not) count.
3) It must be something that you've been wanting to do but put off for various reasons.
Some ideas:
Take yourself out on a date. Movies, pedicure, dinner for one. If hanging out by yourself is not your thing, invite a friend along.
Save up and spend the night in a hotel and order room service. I'm a room service junkie, even though I know it's crazy expensive. But something about picking up a phone, ordering food, and then they bring it to your room on a tray? Hea-ven. Right here on earth.
So in the comments, I want you to look at your calendar and pick a date within the next six months (I'm giving you time to get it together!) that you will "Treat Yo' Self." Ready?
My date is May 18. I think I will roll with option #2 up there. (Room service FTW!).