Want to be featured on the Young Mommy Life? Just shoot me your info and tell me your story! 
Contact me at youngmommychronicles@gmail.com or through the contact form on the Contact page.
Young Mommy Spotlight:
Alexia Harris
Her story: I met Alexia when we were in undergrad. She impressed me even then, when I saw her working a PR event a few months after having her second kid. She was doing the damn thing and I proud to be in her company. Check out my interview with Alexia, as she continues on her quest to be the to-go PR maven in the game!
1) What was your situation when you had your first kid? Were you happy/scared/anxious about becoming a mom?
I'd just graduated high school when I found out I was pregnant. I was only 17. My mom was really angry because I was supposed to leave for Hampton a week after I revealed my secret. She wanted me to do great things in life, and not follow in her footsteps. She was 17 years old when she had my brother. Even though she graduated from college, she knew how hard it was and didn't want me to experience the same difficulties.
I had a boyfriend, but we weren't married. It was young love. But looking back, I was too young to even know what love meant. Whatever the meaning of love is (everyone interprets it differently), that definitely wasn't it. We broke up shortly after my daughter turned one. Now I have a son with my current boyfriend and he's great. We've been together for four years and he's been a big help in helping me achieve goals. And being there for me emotionally when I had no one else to turn to.
 
At first, I was scared. But who wouldn't be? I was still a baby and I has having a baby. It may sound cliche, but it was true. How could I care for another life when I can barely care for myself. I'd had the same part-time job since I was 14 years old. I worked at a local library. When I was pregnant, I started working at a call center, Express (clothing store) and at a local hair salon. I did everything to earn money for my daughter. I worked until three weeks before I had her. Two weeks after she was born, I started working at the library again. I felt proud to pay my own bills (even though I still lived with my mom until Jaelah was five months, I had a car note, insurance, helped with groceries, cell phone) and buy baby clothes and diapers. When she was born, being a mother was like having a sixth sense. My nerves went away. I wanted to do everything right, which is a lot of pressure. It was much easier the second time around.
2) What advice would you give other young moms? Any thing you wish you had done differently?
There will be a lot of people who will doubt you, maybe even family members. You can't let them get to you. Believe in yourself. I'm not saying it's easy. It's not. But it's doable. I graduated in four years with two children. Magna cum laude. It felt great to send my grandfather my graduation announcement. He was the main one saying I was destined to be a failure and would amount to nothing but being a single mother. It served as motivation.
Let your children push you. It's not just about you anymore. Everything you do is for them. Never forget that.
 
I wish that I wouldn't have cared so much for Jaelah's father, who doesn't do anything for his daughter. He doesn't work. Conveniently, his excuse for not having a job is the economy. What he doesn't realize (or ignores) is that whether the economy is good or bad, Jaelah still needs housing, food and clothes. He knows that since I've never not provided for her, I'm always going to take care of her whether he helps or not. It's pretty pathetic actually. I've told my story to show you how you shouldn't trust anyone. Have your own back.
 
3) What was the biggest challenge when you became a mom? What was the biggest surprise? What was the most wonderful thing?
The biggest challenge was potty-training. Whew, I'm getting stressed just thinking about it. It wasn't that bad with Jaelah (who is five years old), but my son (Jonas, two years old) has me singing the blues!
 
The biggest surprise is how much our children are replicates of us. My children act just like me. Sometimes I can't get mad at the things they do because I do them too. I get so much joy from being their mom. They make me mad, cry, laugh and happy but I wouldn't change being Mommy for anything in the world.
4) Your dreams for the future. Where do you see yourself in 10 years?
In 10 years Jaelah will be 15 and Jonas, 12. Wow, I'll be kinda old, huh?
 
Anyway, I hope to be a publicist for a number of entertainers and athletes. I love my profession. I currently work in nonprofit PR and do other projects on the side, but I have not lost sight of my ultimate dream. I maintain a blog that talks about PR issues that relate to issues in entertainment, especially those relating to children and Generation Y. That's my passion – to work with young stars and guide them… make sure they are behaving correctly, engaging in the right activities and connected to their key publics. My blog helps me keep my fire burning and I'm not blowing out the flame any time soon.
Dr. Yakini Etheridge
Age: 30
Number of kids: One – a precious new baby boy!
Her story: This woman is incredible. Currently working as a staff psychologist at a state hospital, she balances her career with her husband and beautiful bouncing baby boy. Keep reading for more on this amazing mama!
How she found out she was expecting: On my 29th birthday DH took me to my favorite restaurant in Manhattan, The View . It's a super romantic, rotating restaurant that overlooks the city, and told me he couldn't imagine spending the rest of his life with anyone else.  We went ring shopping that weekend. After seven years of doctoral studies I was
finally preparing to finish up in May and had just been offered a
position as staff psychologist at a state hospital. Life was a whirlwind for me, with so many life changing events occurring simultaneously!  It was at that time that I discovered we were expecting a baby!
The initial reaction: I was thrilled because I'd always wanted
to have my first baby before age 30 but, quite truthfully, had started
coming to terms with the fact that this likely wasn't happening.
Besides, we reasoned, sometimes folks (us included) spend so much time
obsessing about when the "best" time is to start a family that it
becomes too easy to come up with reasons why the present is not good…
and we concluded that this may very well have been God's way of telling
us to move forward.  Despite this very optimistic way of viewing
the situation, it still felt nerve-wracking!  Once you become "expectant parents" it becomes an intensely emotional and surreal experience as you realize that another human being will be depending solely on you for survival and beyond. You will soon become a true role model, in every sense of the word. You'll be looked upon for comfort, for guidance, for appreciation, for discipline, for advice, for sympathy, for laughter, for just about everything that all of us are.
Follow this advice and you will be okay: Establish a routine for your baby as early as possible.  For example, DH and I have a sleepy-time routine for Chase that, with my mom's help, we established within the first couple weeks he was born.  This is the best thing we could have done.  He's in bed by 6:30 p.m.  Since we've been doing this since he was born, he now understands that when it's time to go into the back and the lights are dim, and mommy and daddy are using quiet tones, that it's time to lay in bed. So that is why he is able to put himself to sleep now.  Babies appreciate the consistency and familiarity of knowing exactly what is going to happen.  It's what makes them feel safe, secure, and comfortable. 
Making time for your man: Another piece of advice I'd like to share is that, after the baby comes, continue to make "couple's time" a priority.  Chase's 6:30 p.m. bedtime allows DH and me to have adult/couple's time of our own in the evening. And Lord knows you need that after a new baby!  We need time as a couple to reconnect too, even if it means just watching mindless reality TV, chit-chatting about our work day, and enjoying a few laughs. We both need time to "relax, relate, and release" sans bébé.  If
possible, find a reliable sitter whom you trust and continue to have a
date night–at least every other week.  It's too easy to
fall into the mode of "Chase's mom" and forget your former self–so you
need to create occasions to get your hair done, do your makeup, put on a
cute dress with heels, and go out and giggle and have a cocktail and
flirt and celebrate your "non-mommy self."
Simply amazing: The most wonderful thing about being a mom is the cuddling/quiet time I share with my son, when he just gazes at me with love and then starts grinning and laughing. I know he is feeling so happy and secure in those moments, and I hope that feeling never goes away for him.
A look 10 years down the road: Professionally, I plan to be board certified by the American Board of Professional Psychology (ABPP), with a specialty in either clinical psychology or psychoanalysis.  I hope that
my salary has increased substantially, as I'll finally be out of that
"early career psychologist" category that us neophytes are saddled with.
 The important thing is that I want to continue contributing my
abilities in a setting where I feel challenged and fulfilled. 
On the family front, I'd love to have 1-2 more children (God willing)
who are healthy, bright, and kind-hearted.  I would have lost all my
baby weight and, having finished having my children, for my 40th
birthday DH would have treated me to some cosmetic surgery to tuck and
tighten my stomach and also lift up "the girls" (kidding… maybe).
Essentially, I'll be feeling and looking absolutely stunning, and will
frequently get asked the question: "Are you sure those are your kids?
Surely this man is your dad, and you are their sister!"
Socially, I'd like to be living near my (immediate) family and have in
my life a very small handful of friends with kids who are my children's
age so they can enjoy slumber parties and we can all camp/vacation
together 1-2 times per year.  Really, I just seek the simple pleasures
in life–nothing grandiose or ostentatious.  I'd love to live in a
smaller town and own our own home in a cul de sac within a gated
community.  I see myself swinging on the front porch with DH and
listening to quiet tunes on his iPod dock, with the sound of the
children's laughter wafting from the backyard.
Cymonne Marsh-Green
 Age: 28
Number of kids: 2 precious babies! 
 Her story:  Cymonne is a dynamic force – she's a military spouse/veteran/student/housewife.  She served 8 years in the army and met/married her husband (also a soldier) while she was in the military and during that time she had her first child. She balances a long-distance relationship, the worries of her husband being deployed, two kids AND school. Let's all just give her a round of applause, shall we?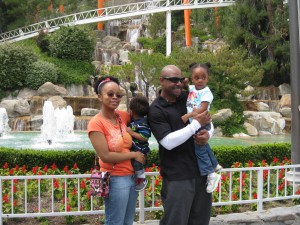 In her own words 
On keeping her dreams strong: "I am still going to school.  I chose online college because of the flexibility it allows me and I am now 6 classes away from completing my bachelor's degree. "  
On being a military wife: "My husband has been gone since October 2007 and I can't even begin to tell you about the frustration and challenge of trying to raise a family and attend college while dealing with my husband's deployment.  My children are 2 years apart and I get little to no time to myself while they are running around.  I usually finish my college coursework at 12:30 to 1:30 am. Long, hot baths, pampering time and new clothes are extreme luxuries that I haven't been able to afford since my son arrived.  My brain is scrambled (I once told my girlfriend, while I was on the phone with her, that I couldn't find my phone). It baffles me how I manage to have a 3.4 GPA with all that is going on around me. "
Where she's trying to improve: "What I think I could've done better was being more organized.  I always see areas of improvement where if only I had planned it better, my day could have been easier. "  
Her words of wisdom: "What I would tell a young mother like me is that you have to have a good plan for any and everything in your life, an amazing sense of humor and something or someone that helps you pull yourself together when things go wrong. "