Back in the early 2000s, my favorite show was "What Not to Wear." I absolutely loved watching Clinton Kelly and Stacy London ambush an unsuspecting, fashionably atrocious woman and needle her into admitting that she needed help with her style choices.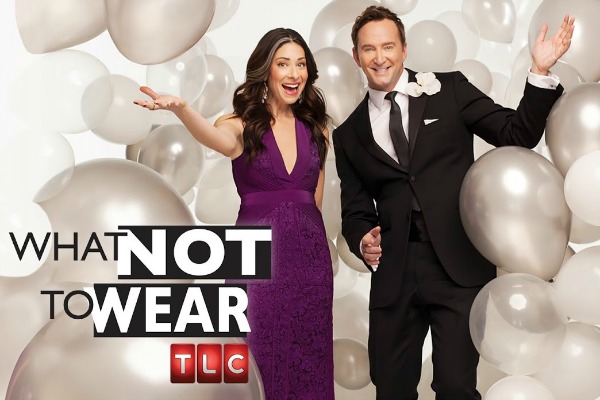 They got $5,000 for a new wardrobe (although I always thought Stacy and Clinton made them buy too many high-priced items) and assistance in hair and makeup.
I didn't watch because I liked watching people get told their style was wack. I watched because I always hoping my friends would pity me and nominate me to be on the show. No lie.
From kindergarten to senior year of high school, I wore a uniform to school (even though I attended both public and private schools) and as a result, I have no sense of style as an adult. When I go shopping for clothes, it's agonizing. I have no idea about fit or good colors or trends. I'll buy something I *think* is cute, then two months later I wonder what the heck I was thinking. I wished I had Stacy and Clinton to guide me away from the unflattering racks and into a wardrobe that helped me feel good about myself.
So when I heard about Stitch Fix, the online styling service that sends you handpicked items to help you look great without having to step foot in a store, I jumped at it. A few friends tried it and loved what they got in their boxes so I was even more sold on the idea.
Here's how it works:
Log on to Stitch Fix and create a style profile.
Schedule the frequency of your shipments (once a month, every 2-3 weeks, it's up to you).
Pay $20 for the shipment of clothes. Once you get it, review it and see what you like. If you like something and you want to buy it, you apply the $20 you spent toward the item. So if they send you a $40 shirt, you'd pay $20 since you already paid $20.
If you don't like the items, send them back within three days in the pre-paid mailbag.
You're done! Give your stylist feedback and then wait for your next shipment.
The style profile you fill out for Stitch Fix's stylists is pretty comprehensive (here's a snippet of mine below):
Plus, you can link to one of your Pinterest style boards so they can see actual clothes and styles you prefer. I was feeling pretty confident about my first Stitch Fix shipment.
I received my first shipment this past week and I have to say I was pleasantly surprised. I'm notoriously hard to shop for, with my thick thighs and small butt (*cries*) and full chest. It's why I hate shopping.
But my stylist? She got me. Not only did everything fit (which never happens when I go to the store), but my stylist actually included a shirt I already own and like, which means she is in tune with my style. (I didn't take a photo of that one but I'm wearing it here.)
Shirt #1: Loveappella Ginger Colorblock & Texture Detail Knit Top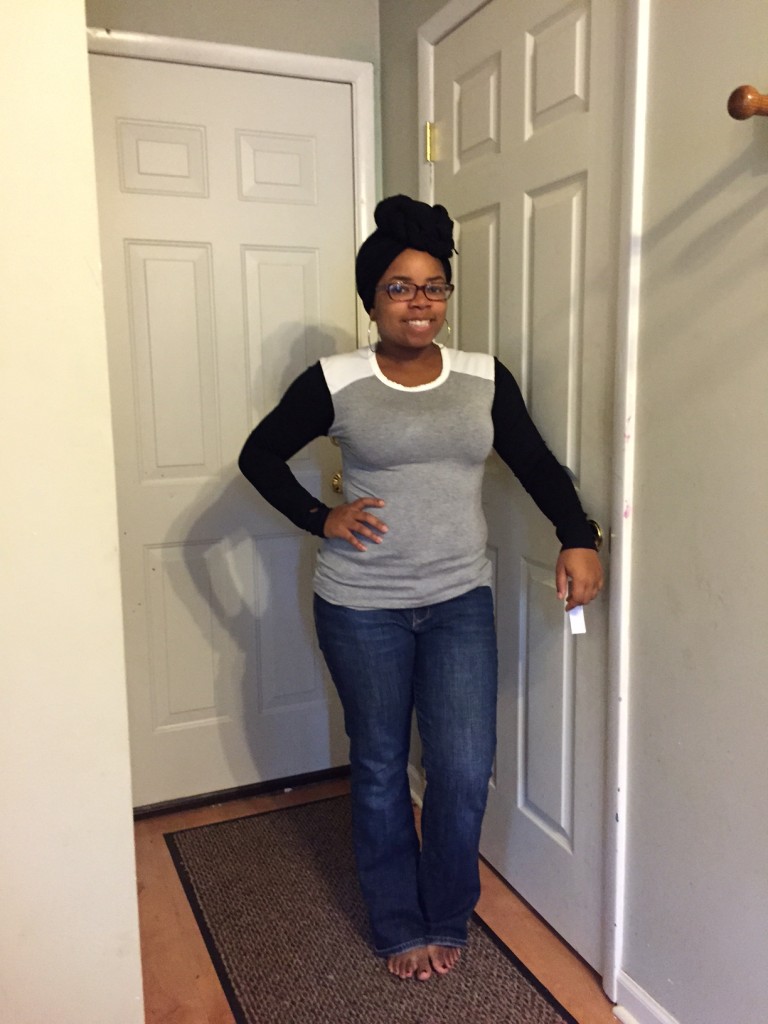 I would have never picked this shirt on my own, but it's comfortable and a bit more interesting than my plain t-shirts (it's not quite visible in the photo but the white part has a diamond weave texture). I bought it. ($37)
Outfit #2: Henley Blouse with Houndstooth Straight Leg Pant and Layering Necklace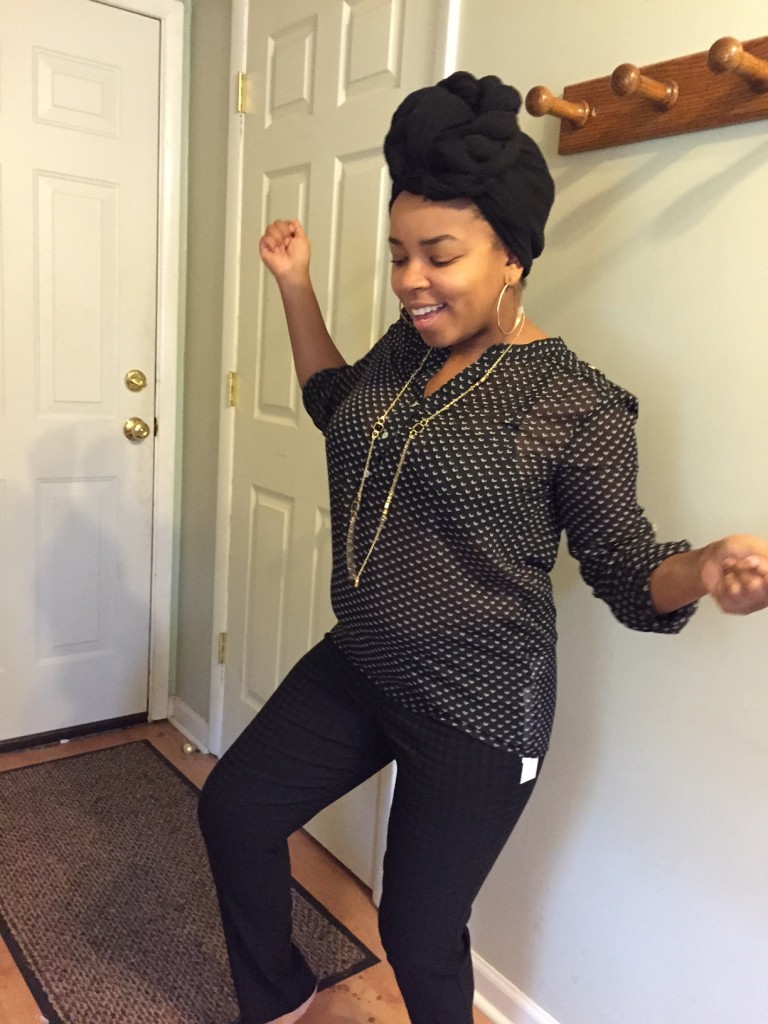 I asked my daughter to snap these photos and this is me mid-dance. Stop laughing. I was really excited because the pants fit. I'm 4'11" and pants never fit. Never. Ever. Do. They. Fit. But these fit great and were something I could actually wear out to meetings. But I sent them back because they were $98 and they DIDN'T HAVE POCKETS. I won't spend nearly $100 on pants that are basically well constructed leggings. I have principles, dude.
I liked the shirt but it's a little sheer and my daughter frowned up her nose at me wearing it without a camisole underneath. So I sent it back.
The necklace was cute but I don't know what to do with it. Being real honest about my lack of style here.
To recap:
Three shirts – One I bought, one I loved but my daughter vetoed, and the third I already owned
One pair of pants that fit perfectly but were a little pricey
One necklace that was cute but since it was a layering piece and I don't know how to layer necklaces I didn't buy it. (I know I'm pitiful.)
Next time I hope to get a little more color, but overall, it was not bad! It was basically like having Stacy and Clinton in my house, but without having to go in the store to try things on and with clothes that are way more affordable. (Plus, no humiliation from your friends and family telling you, "Please, I beg you, wear something else!")
I also like that every month I get a shipment of clothes that are just for me. Stitch Fix doesn't sell men's clothes or children's clothes, so there's no risk of me just buying clothes for my kids like I do when I end up at Kohl's or Macy's. It's nice to get something in the mail that isn't just bills and pizza coupons.
Try Stitch Fix for yourself and let me know what you think!