I was planning on publishing a post about my recent trip to Memphis, Tennessee to tour St. Jude Children's Research Hospital as soon as I got back. But it's been two full weeks since I've returned and I'm just now posting about it because I'm still processing the amazing things I've seen.
In case you don't have any idea what St. Jude does, it's quite simple: They deliver world-class care to children and families struggling with life-threatening illnesses. They have amazing doctors, researchers and staff who all work together to ensure that children feel safe and protected while they receive treatment and that the parents feel empowered and supported.
But the BEST part of St. Jude's mission is that no family receives a bill when their child receives treatment at the hospital. Food, travel to and from the hospital, long-term housing, medication—it's all covered.
As you can imagine, this kind of miracle work doesn't come cheap. It will cost $885 MILLION to run St. Jude Children's Research Hospital in 2015. You would think that most of that money comes from huge sponsors and benefactors, but 75 percent of those funds must be raised by private donations. The average donation to St. Jude hovers around $30 a month. That's people like you and me who are making a huge difference in the lives of families around the world.
The highlight of the first day of our blogger tour was seeing the St. Jude Target House up close and personal. For St. Jude patients that will be receiving treatment longer than 90 days, they are assigned a two-bedroom apartment at this long-term facility. As we pulled up, I noticed that it isn't exactly a "house"—it's a full, bonafide mansion.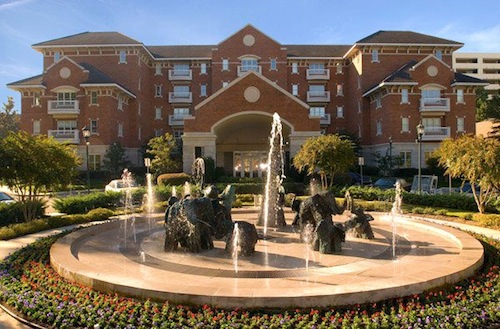 You walk in the front door and you see this:
This housing is so plush and modern that I could imagine it distracts you a bit from the real reason you're there. As our tour continued, I continued to be impressed by the details. The Target House had:
Free Laundry Facilities
Library with Selection of Books and Movies
Playground
Small Child and Teenager Designated Playrooms
Music Room
Workout Facilities
Arts and Crafts Room
Large Communal Dining Room and Kitchen
To me, the Target House represented everything that's impressive about St. Jude. It's the small details (such as Target asking incoming families what their child's favorite characters are so they can outfit the bedrooms accordingly) that make parents feel a little less burdened by the health challenges their child is currently facing.
Stay tuned for more St. Jude stories this year as I share how you can help St. Jude find cures and save children.