Growing up, I always ate my grits with butter and sugar. Being on #TeamSugarGrits meant that I turned my nose up at savory grits, i.e. cheesy grits.
Earlier this year I went out to dinner with my husband, saw creole shrimp and grits on the menu and decided to give it a try. Let me tell you: it was like the seas parted! Ever since then, I've eaten it at every opportunity. Last night, however, I decided to try my hand at making them myself. I tinkered around a bit and came up with a shrimp and grits recipe that had me swooning.
Y'all.
Y'all.
Amaaaazing. So amazing. Had me singing like John Legend. "'Cause allllll of me, loves alllll of you." Just look at it: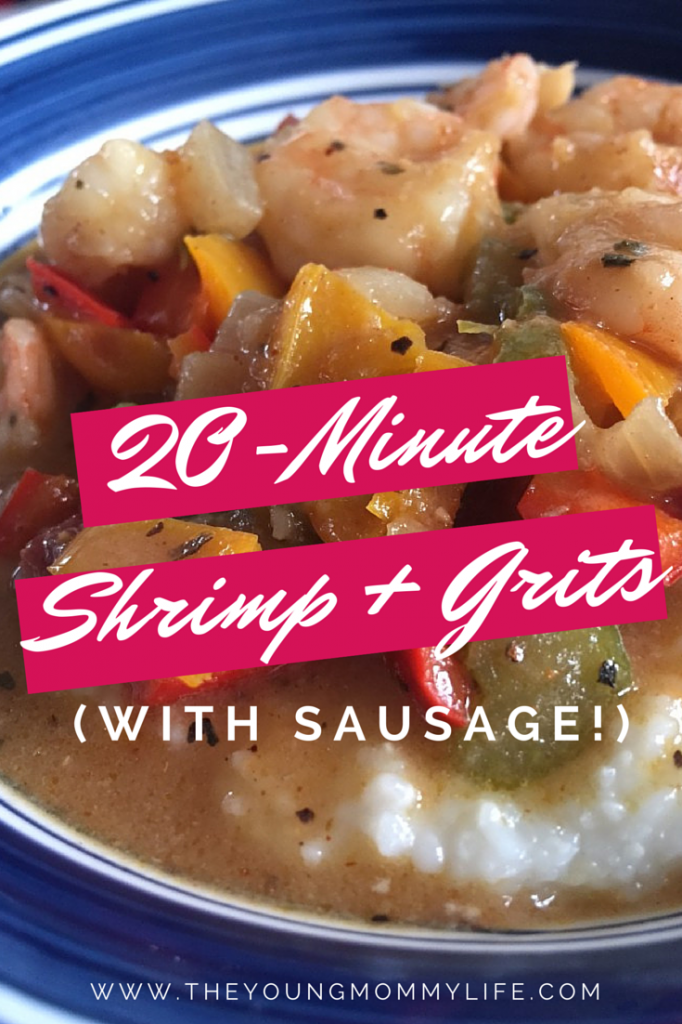 20 Minute Shrimp And Grits (With Sausage!)
Prepare the grits according to package directions. After the grits are done, add 1-2 teaspoons butter and 1/3 cup cheese (cheddar or Parmesan). Season with salt and pepper to taste.
While the grits are cooking, season 1/2 lb to a 1 lb of shrimp with Cajun seasoning and sprinkle two tablespoons of flour on top. Let it marinate.
In a skillet over medium-high heat, fry 1/2 chopped sausage until crispy. Remove from the skillet, and add in 2 cups chopped veggies (equal portions onion, celery and bell pepper). Saute for 8 minutes or until soft. Add shrimp to skillet and stir.
After the shrimp is cooked through, slowly pour in 1/2 cup of chicken broth. (You can use vegetable broth or seafood stock if you have it.) Let simmer for 3 minutes or until thickened. Season to taste with additional Cajun seasoning mix, or salt and pepper.
Divide the grits into separate bowls and top with the shrimp mixture. Serve immediately with a few dashes of hot sauce and green onions (optional). 
There you have it! Super simple and a party for your tastebuds. If you like it, don't be afraid to put a "Pin" on it!