Back in 2012, I had a series that I ran on the blog called, "She Inspires!" I picked noteworthy women (aren't we all?) to give YML readers a peek inside their lives. My goal with this was to give everyday mamas some shine and perhaps share a little bit of mommy wisdom amongst ourselves. I'm pleased to announce that it's back and better than ever! Want to nominate someone for the series? Email me or send me a tweet with that person's handle!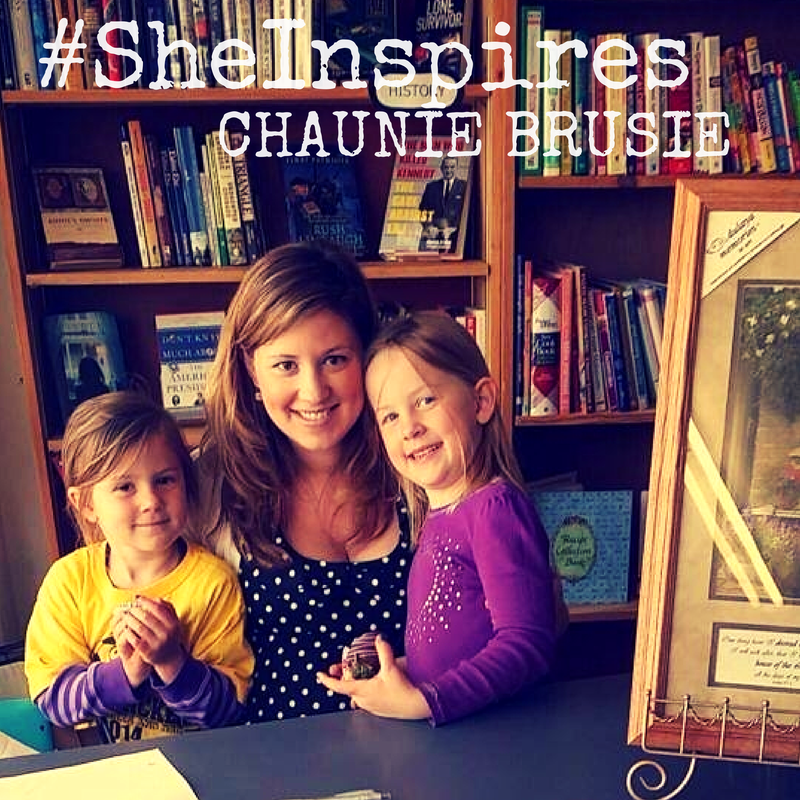 Name: Chaunie Brusie
Age: 28
Kids
: Two girls: 6,4,and my son: 2, and another little girl due in August

Whenever I have a moment of free time I look forward to…
Reading! I'm a total bookworm at heart–always have been and always will be. I love reading actual books whenever I get the chance, which is usually late at night and in sacrifice of my other favorite thing–sleeping!
My mommy superpower is….
Staying one step ahead. I work from home, so it's all about staying one step ahead to avoid major stressors in the day. That means laying out clothes, prepping food early on, and always having snacks on hand to avoid small people meltdowns!
On really tough days I…
Am not actually very grown-up about things, I have to admit. I tend to get super tired and cranky and even though rationally, I know I just need a good night's sleep, I will sigh the martyred sigh of mothers everywhere until bedtime.
The thing that scares me the most about motherhood is….
The fact that someday, my children may sit around a table and hash out all of my flaws! It's so hard being responsible for all these little lives when I know I am far from perfection myself. It's easy to fool them when they are little, but when they are older? *shudder*
The thing that excites me the most about motherhood is….
Watching my children learn new things. I admit that I'm a blubber ball mom and have a hard time watching my kids grow up (and letting them grow!), but it helps to focus on knowing that there are so many exciting and wonderful things in the world that they can experience as they grow.
If my kids can only remember one thing I teach them, I hope it's….
That reading is awesome! All of my kids love to read so far and it's one thing that I feel I've done right as a mom, instilling that love in them. I only hope it can stay with them for life.
I feel like a great mom when….
I can learn to have more patience and speak kindly always. I don't ever want my kids to feel like they are bothering me for interrupting my work–because my first job is them, no contest.
My personal motto is…..
Read more from Chaunie at her website, on Facebook and Twitter.