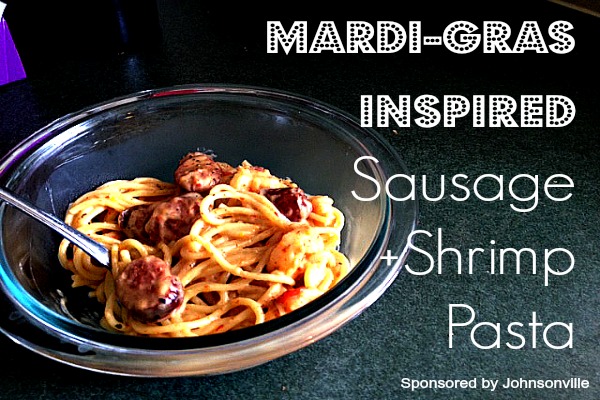 This is a sponsored conversation written by me on behalf of Johnsonville Sausage. The opinions and text are all mine.
I'm pretty sure if you look deep into my family tree, you'll find some Creole heritage. There has to be. I'm in love with all things Creole and the food is but one of my obsessions. I've been trying to get to Louisiana, home of the best Creole and Cajun food in the country, for YEARS. If I could get there around Mardi Gras and really soak up the culture as well as feed my face, well, I'd be in heaven.
Since I'll miss Mardi Gras this year (*tear*), this recipe will have to satisfy my craving. Whenever I'm making Cajun-inspired dishes, I use Johnsonville Split Rope Sausage. When you start with tasty sausage, you don't have to add so much seasoning. The sausage does half the work for you, making it an easy choice for time-strapped parents. Johnsonville sausages come in a variety of flavors and contain no fillers, only premium pork cuts. (Plus, there's built-in portion control – the two links are individually sealed.)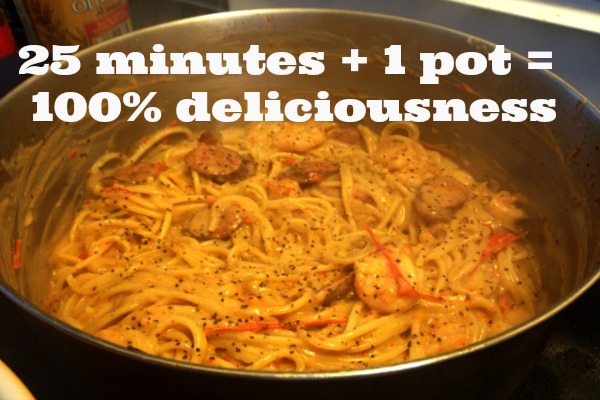 This recipe is a little something I made up based on ingredients I already had in my cabinet, but if you need some recipe inspiration, join us on February 26th at 10 am EST for #JvilleRecipes Twitter Party to share your favorite Mardi Gras-inspired recipes! (Follow Johnsonville at @JvilleKitchens)
Ingredients
1 box linguine or campanelle
1 tablespoon olive oil
2 links Johnsonville Andouille Sausage, sliced or chopped
1 medium onion, chopped
1 cup red or yellow bell peppers, chopped
1 clove garlic, chopped
1 teaspoon cayenne pepper
1 teaspoon black pepper
1 teaspoon Cajun seasoning
1/2 pound shrimp, peeled and seasoned with 1 teaspoon Cajun seasoning
2 cups alfredo sauce, jarred or homemade
1/2 cup Parmesan cheese (optional)
1 teaspoon basil (optional)
Directions
Bring water to a boil in a large stockpot. Salt the water liberally, then add your pasta. Cook for 8 minutes, or as package directions state for al dente texture. Drain pasta and set aside.
In the same pot, heat 1 tablespoon of olive oil over medium heat. Toss in the chopped Johnsonville Andouille sausage, onion and bell peppers. Cook until the sausage is browned and the veggies are soft, about 5 minutes (turn down the heat if the food begins to cook too quickly). Add the garlic and cook for 2 more minutes. Season the meat and veggie mixture with the cayenne pepper, black pepper and Cajun seasoning.
Add in the shrimp and cook until no longer pink. Add the alfredo sauce and toss to combine. Let the sauce simmer for 5 minutes, then add the cooked pasta. Top with Parmesan cheese and basil, if desired.
What dish would you create with Johnsonville Fully Cooked Sausage? Find recipe ideas on their website and Facebook page. [Comments submitted may be displayed on other websites owned by the sponsoring brand.]
Johnsonville Split Rope Sausage is packed with flavor to make your dinners easier and more delicious. Get ready for Mardi Gras with Johnsonville! Visit Johnsonville.com for great recipes!