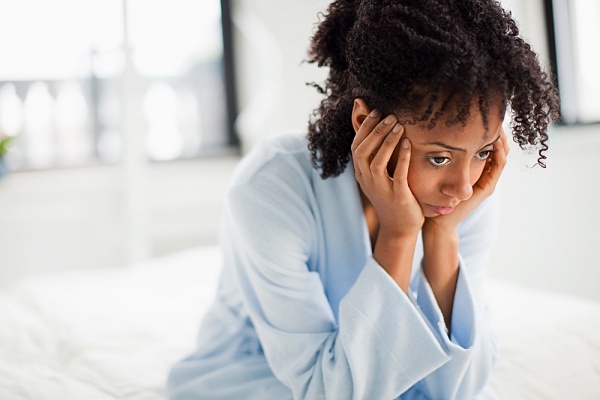 I can't remember how old I was, maybe 7, when I witnessed my mother's depression suffocate her.
I was only able to glance into her room, her brown body still in the bed, before the ambulance came. Though she survived, we never talked about what happened that day, but I knew. As the youngest of four I was often shielded from the dark realities of my single mother's struggle to survive and her battles with depression. At that young of an age I didn't understand why she acted the way she did – why she was cold, mean, unable to show me deep affection, why she prioritized her boyfriend over her children. And I realize now that my own battle with depression began through witnessing my mother's struggle.
I didn't need a medical provider to tell me that what I was feeling was more than an overwhelming feeling of sadness. I knew that the feelings that were taking over me were much deeper and scarier than just being sad.
Growing up we didn't discuss feelings. My mother's goal was to raise strong independent black children. We would grow up and soar and fly without needing help – without showing fear. When we didn't act accordingly, there were severe consequences. So when these dark feelings grew within me, I acted as I was taught. I hid them, concealed them, kept moving forward with a smile on my face. Because showing any kind of weakness, especially as a black woman was unacceptable.
So I moved forward, on the outside a shining image of a strong single mother, helpful, attentive, outgoing, and happy. I gave all that I had to making other people happy that I had nothing left for myself. When I'd get home and peel off that mask, and looked at myself in the mirror I hated who I saw staring back at me. She was weak. She was fragile. She was suffering. She was fat. She was ugly. She couldn't do anything right. I mean who would get pregnant at 19 with someone who didn't even love her? Who would seek out men's affection because she had never felt real love from her parents? Who would consider self-harm as an answer? Someone weak.
I hid my depression and later my anxiety attacks from everyone. No one knew that I was leading a double life. I couldn't let the truth escape because I didn't want to show how vulnerable and scared I was. I didn't want people to think I was a basket case. I wanted people to believe that I was fine, that everything was just great. That that smile I wore during the day carried on at home. I had to conceal the truth. No one could know that I would sometimes spend weekends in bed crying thinking about death. No one could know that I'd drink myself into a stupor just so I could stop feeling so damn much. No one could know that I didn't find pleasure in anything anymore. No one could know that I thought I'd be better off not being here.
My depression scared me. I wanted so much to feel ok, happy even, but regardless of how hard I tried to feel different it didn't work. I was still left feeling empty, feeling incredibly sad and lifeless. All while having to raise a daughter on my own. And that scared me even more. I wanted so much to be a positive role model for her, for her not to see her mother's pain, for her to be better than me. But I constantly felt I was failing her, doing a terrible job parenting. Fearful she'd grow up and have the same issues with love and depression as I did. Instead of letting that be my motivation I sunk deeper into my depression, sure there wasn't a way out.
My battle with depression still continues, yet it does not consume me. Because of how I grew up I've never been comfortable seeking clarity through a therapist or explaining to my friends about the demons I've been battling. I've tried medication after medication, finding no relief and telling myself they were doing me more harm than good. I hit rock bottom several times, at times unwilling to pull myself up, just wanting to be still.
Loving yourself while battling depression can seem impossible. But I'm proof that it isn't. When I look at myself in the mirrors these days, I still see my flaws. But what shines brighter is my desire to be better, through the struggles. I had a choice to make – I could continue as I was or I could take small steps to be better than I was the day before. I had to be open to loving myself. I knew it wasn't going to happen overnight, but I had to try. For myself. For my daughter. For all those who love and support me.
Depression is a silent killer, and it can be hard to understand someone who is severely suffering. Don't give up hope. It can be hard to reach out for support, especially when you don't feel very lovable. But the strength of the people around you is crucial in moving through depression. There is a way out; depression doesn't have to be the end.