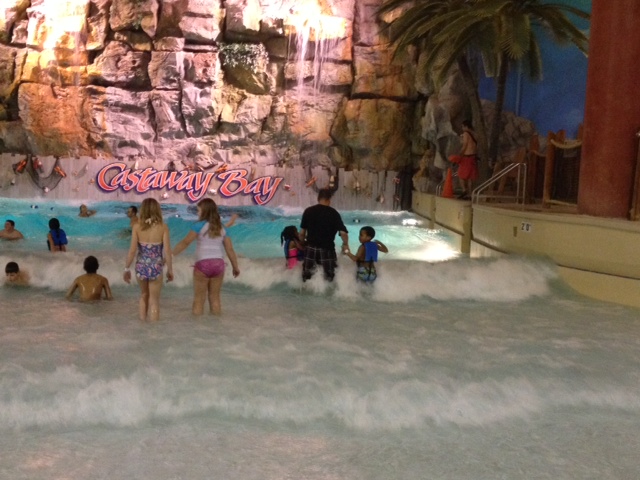 This past weekend, my family was invited to Cedar Point's indoor waterpark, Castaway Bay, for a blogger event. We were instructed to enjoy the 82 degree weather inside the park and splash around to our heart's content. It was my first time at the waterpark and I was eager to see if it would live up to expectations.
Once we got there, the staff at Castaway Bay treated us to a pizza and salad buffet at Mango Mike's, one of several restaurants on the property. (They even brought out two gluten-free pizzas for my daughter!)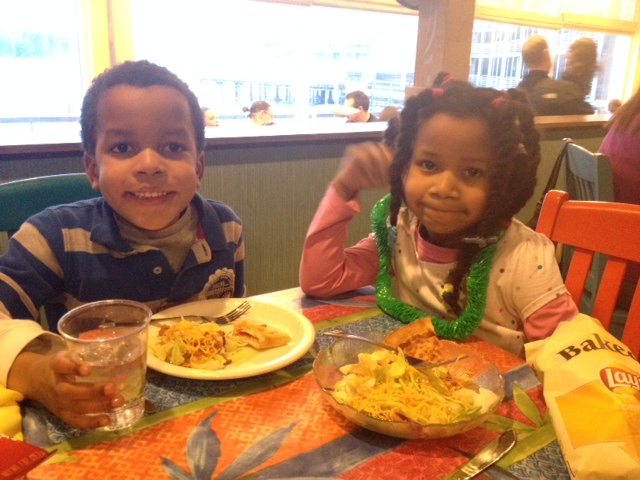 After that, it was time to go up to the rooms and get dressed for the waterpark. The kids loved the goodies they found in our room! We were in a Pelican room, which had two double beds, a flat-screen TV, plus a microwave and mini fridge. I wish I had paid attention and known there would be a microwave/fridge combo in our room, because it always comes in handy when you're traveling with hungry kids.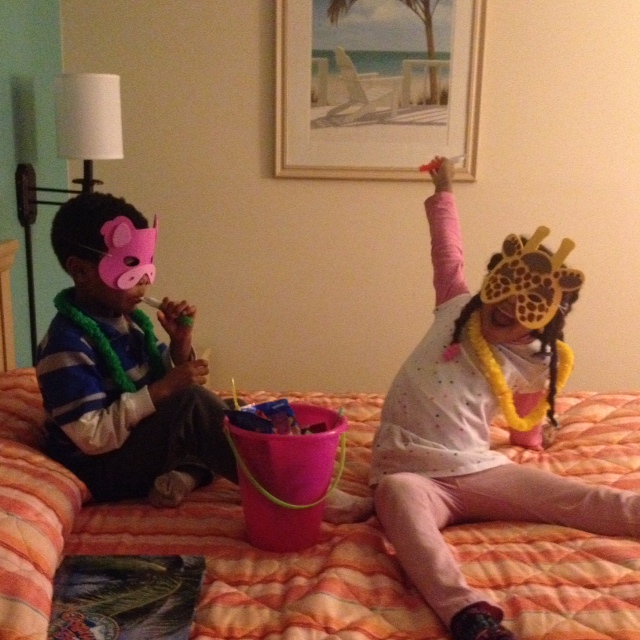 The waterpark itself was much larger than I thought it would be. The designers did a great job of packing a lot of activity into that space. I decided to follow the kids' lead and let them show us what they wanted to get into.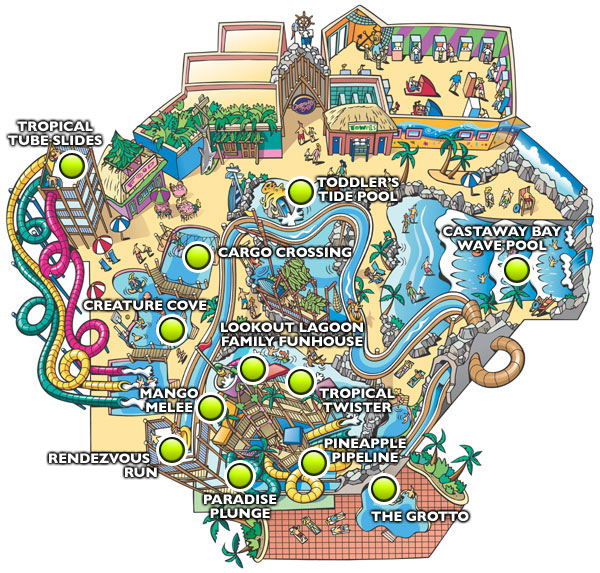 Let me take you through it, section by section.
Lookout Lagoon Family Funhouse
This might have been my favorite part of the park. There's water coming at you in every direction and just when you think you've found a dry spot, THINK AGAIN. The funhouse leads to four water slides, each of varying height you can choose how tall you'd like to go. My daughter was terrified at first, but after some gentle nudging, I convinced her to just let go and go down the slide. But then guess what? That meant I had to go too! And I was nervous! This was my first time on a water slide and it was fun!
The Grotto
At 5 years old, my son is an old soul. He told me this was his favorite part of the park. He bounced around in that hot tub like he was never going to get out. And while all the water in the park is warm once you get used to it, the hot tub was obviously much warmer and almost lulled me to sleep. Perfect spot for moms. Or maybe not. LOL
Rendezvous Run
I got one beef with this place — who told them it was okay to build a water roller coaster? I wasn't reaaaaaaaaady. At all. I obviously did not read the "Thrill Level 5" signs posted all over the place but I thought it was just going to be a fun little slide that takes you all over the building. NOPE. This is a 520-foot WATER ROLLER COASTER that propels you through the tubes (some enclosed so it's pitch black!) both inside and outside the property. My daughter, who, not 5 minutes earlier was scared to go down a waterslide, LOVED this ride and went on it 5 times. I need to stay my chicken self on the ground and in the wave pool where I belong. LOL
Creature Cove
Lots of floating animals in this space, which we didn't really get to explore that much because they kept gravitating to the wave pool. Next time, kids!
Wave Pool
My kids adored this part of the park. We must have stayed in there for close to an hour and whenever I'd ask if they were ready to go try another area, they'd both firmly shake their heads no and continue splashing around.
Toddler's Tide Pool
Now this was kind of sad for me, because my kids are waaaay too big to be splashing around in the toddler area. Somehow, even though my kids are 7 and 5 (and both come up to my shoulder), I still see them as babies. We checked out the area briefly, before other parents could complain that my "big kids" were in the way of their babies. *sniff*
Cargo Crossing
My son was the only one who wanted to do this, but I think he was too short to try it out. Either way, he was happy because there was so much other stuff he could get into.
Arcade
In addition to the waterpark, there's an arcade right next to it with lots of fun games. I was expecting it to be a lot smaller and have more old-school games, but it was huge and very modern. I was impressed!
Our verdict?
My kids LOVED it there, so much so that they fussed the whole way home about when we would go back. I'm thinking it will be sooner rather than later. I thoroughly enjoyed myself as well. There was plenty to do, lots of food options (always important for a chubby girl like myself), and lots of lifeguards on hand keeping everyone safe.