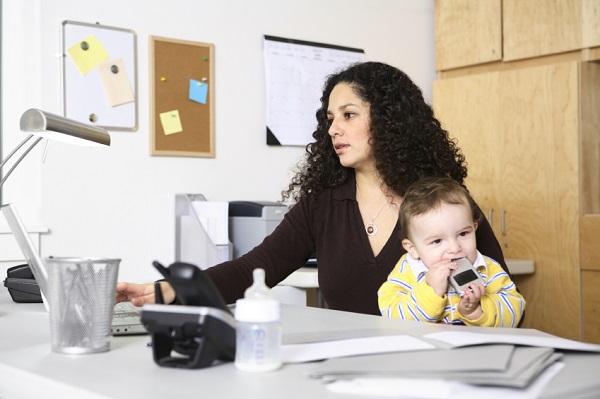 For some of you, this is just the beginning of your journey as a student-parent. You just applied, got accepted, bought your textbooks and you've completed your first few weeks of classes. You're still a bit scared on how all of this is going to work. I can just hear the questions in your mind now: How exhausting is this going to be? Will I have time to study after dinner? Before dinner? During dinner? How do I get my kids to understand that I am in school now and I need time to study? 
Luckily, you don't have to do this alone. There are lots of articles about being a student-parent with tips to help you balance all on your plate.
But today I want to talk about something else: prioritizing school. Keep on reading to see which scenario applies to you:
Mom with older kids
At this age, kids can understand that you are going to school like they do. Create a shared homework space where you all can work together. Try to let them know about your schedule. If you are planning to study or do school work on Tuesdays and Thursdays from 6-7 p.m., let them know that you will be busy during that time. If they're involved in any extracurriculars and you can swing it, try to bring your work and study while you sit on the sidelines.
Stay-at-home mom
If you're planning to go back to work following school, this is a great test run for you. Don't hesitate to make your studies a priority. For you, it might be crucial for you to get out of the house to do schoolwork, because it helps you get in a different mindset. It might be helpful if you "wake before the quake" and try to get up an hour before the kids do, to gain valuable time to yourself.
Single mom
You need a support system. Do you have a babysitter or an sister-friend who's close and loves your kids? You'll need it, not only for study sessions, but also just so you can ensure you get a break every now and then. Also note:  You'll need a back-up babysitter for the babysitter. Don't be overwhelmed with all you have to do. Just work one day at a time.
Working mom
Night classes are your best friend. Try to go straight from work to class to avoid getting too tired that skip class. Pack yourself a snack so you're not tempted to leave early (been there!). Remember that this is not a race, but a marathon. Taking too many classes at a time can end up stressing you out more than taking fewer classes and being in school longer.
Mom with a baby
The very best thing you can do is to talk to your professor at the beginning of the term. Please do not feel like you have to hide the fact that you are a mother. If you need to leave class to pump, tell them. If your child is running a fever, do not hesitate to let them know. Your job is to get yourself as much support as you can. Their job is to support you in your educational journey. Since you are most likely exhausted from caring for a newborn/infant, small study sessions are in order. Think no more than 20 minutes at a time (you probably won't have much more than that to give, anyway). Do not overwhelm yourself with too many classes.
Everybody
Try to "automate" some processes in your house.
If your toddlers are always asking you for snacks, put them in little baggies that they can reach themselves (after they ask you, of course).

Aim to make about

75% of your meals in a slow cooker

(they are available at Walmart for $15).

Spend Sunday night building your to-do list so that you're not scrambling on everything you have to remember. As a student-parent, you're going to lose your mind. It's pretty much inevitable. Just write everything down. 

Let go of how "it's supposed to be." This is how it is while you're in school. Deal with it.