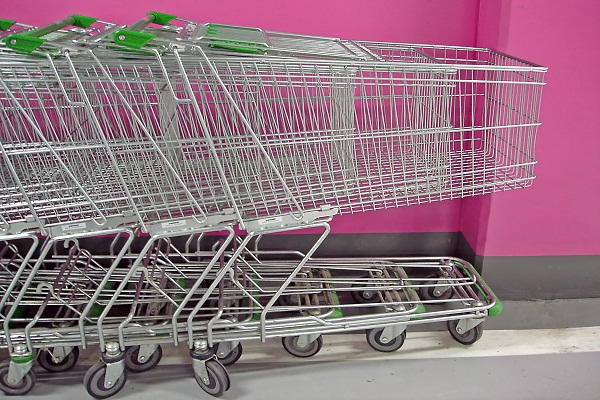 I was at Sam's Club this weekend, stocking up on food with my family, when I heard the familiar sounds of a two-year-old crying.
I turned to the left and sure enough, there was a mom with two kids in her cart and both of them were crying off and on. "But, Mommy…." the oldest, maybe 4, wailed. The younger one, who was about 2, just cried, not saying any real words.
The mom very calmly told the children that they would be done shopping in a second and she proceeded to put the last two items in the cart before turning and heading for the registers. Knowing that the lines were crazy long when we came in, I said a quick prayer that she could get through the line quickly and get those kids home for a nap.
We happened to get done at almost the same time so we actually ended up following her to the cashiers. The whole way, the kids kept crying. The mom held her head high, softly telling her kids, "It's okay, it's okay." As she passed the other shoppers, they turned and whispered to each other. "Those kids have been crying the whole time," one person said. "God bless her for her patience."
We were across from the mom when we were checking out and one of the employees came up to her. "Aw, what's wrong?" she said softly to the youngest one. "You're making quite a fuss."
She made some funny faces and the little girl stopped crying and laughed. "See, there you go. Giving your Mommy a hard time. She loves you and will get you home soon."
Then the oldest one stopped crying and I saw the mom take a deep breath. "Thank you," she mouthed to the employee.
I love moments like that because it reminds me of how much a gentle word from a stranger can do to help you out in your time of need. In a world where we've got grown men slapping babies on planes, that type of gentleness is welcomed with open arms around here. After the employee got the kids to stop crying, the mom looked so visibly relived and no longer looked like she wanted to run out into oncoming traffic.
It's the little things, people. If you see a crying kid and a flustered mom in a store, instead of just thanking your lucky stars it's not you (that's my default reaction), see if you can help. We all need each other to make it in this world – definitely not a lesson I was expecting to learn at Sam's Club!