After Beyonce's electrifying Super Bowl performance, I was in awe. This woman (about a year after giving birth to her daughter, Blue Ivy) commanded that stage like she had something to prove. I didn't move. I didn't blink. I just sat there and watched. (Mostly 'cause if I had gotten up to do some of those moves, I would have probably twisted an ankle or broke a hip or something.)
In short, I LOVED IT. LOVED IT, I say. My love of Beyonce is well-documented and what I most admire about her is her work ethic. She put a lot of hours into that 12-minute performance and I applaud her to taking her gigs seriously and not looking at what she does as just singing, but being an entertainer. She wants you out of your seat and your hips rocking and swaying and she wants you happy while she's on that stage.
Most people in my circle thought she was great and did an amazing job during the halftime show. Other people were upset about her costume and dance moves. In a Today show Facebook post, someone wrote:
I think since she is a mother, she needs to knock that crap off. Time to be a parent and set an example, not be a whore.
Whoaaaaa. A whore? Really? I don't really know how to respond to this so I'll just show a picture: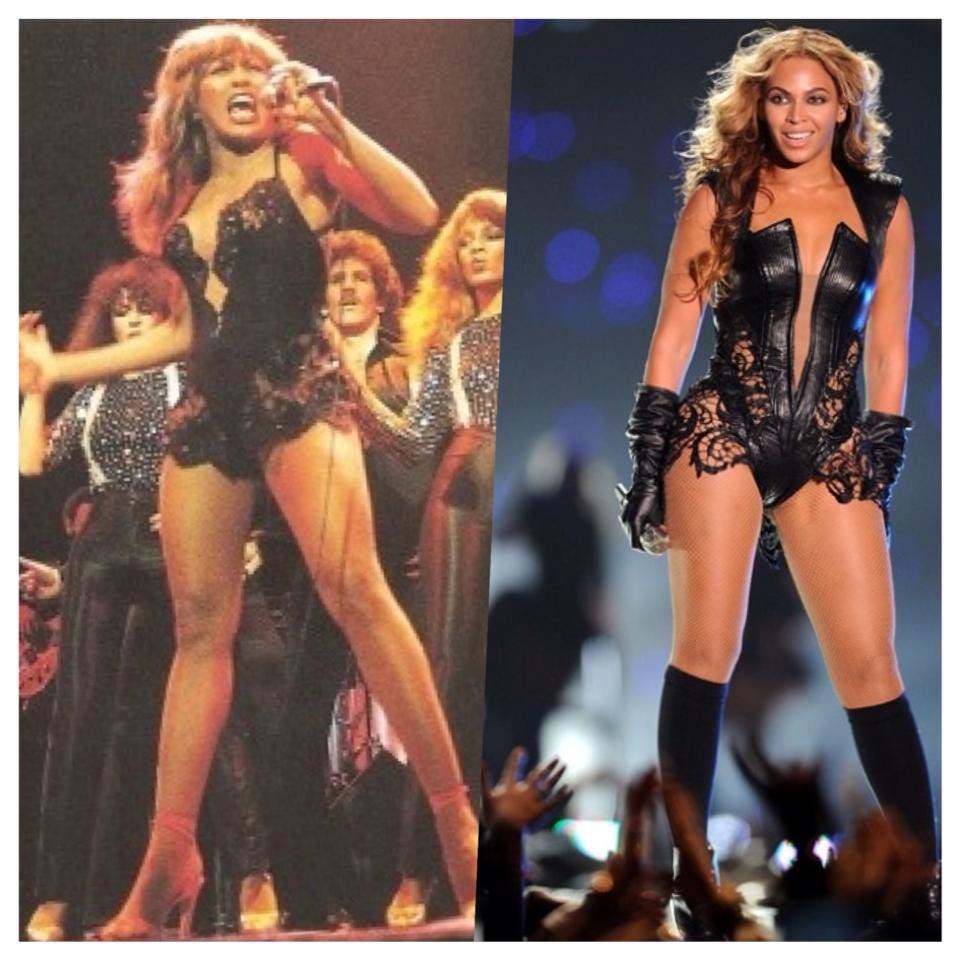 It's no secret that Beyonce idolizes Tina Turner – the hair, the outfits, the dance moves, those legs. Beyonce, God bless her, ain't doing nothing new. She is an entertainer taking notes from one of the greatest. You think she walks around the mall in outfits like that? It's a stage persona. It's not "real." She's wearing a costume. We can't all be Adele, sitting on stage with a floor length dress. And as much as I like Adele, I would not want to watch a halftime show featuring "Someone Like You." No. A Super Bowl halftime show requires energy, dance, sweat—all of which Beyonce delivered. 
As far as the sexiness, Beyonce oozes it regardless of what she is or isn't wearing. Her body is bananas. Besides that, she's 31 years old. She's a grown woman and I think she's proven herself as an entertainer. I like the fact that she didn't have a baby and came back with some new look and a sudden fondness for turtlenecks. You can be a mother AND be drop-dead sexy too. (I'm still working on it, ahem.) 
You know what I find most empowering? That Beyonce's the boss. That she's directing her own documentaries and being her own manager and making her own business decisions about what she will and won't do. That when she's on tour, she watches her own performance every night and sends notes to the crew in the morning. That she practices until her feet bleed. Those are boss moves.
So yes, Beyonce can be a role model for my daughter. Yes, indeed.