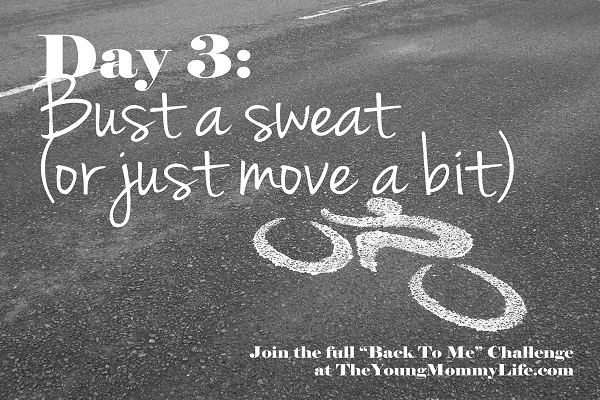 So far I've done a good job keeping up with the challenges. I cleaned out my closet and dresser of all the clothes that made me feel fat or look fat or just plain ol' frumpy. So that's good. I made my "worry list" and have a little less stress upon waking up this morning.
Which brings us to day #3.
Day #3: Bust a sweat
I don't know about you but I'm constantly complaining of having no energy. I'm dragging from the moment I wake up until about 2 p.m. or so when my brain suddenly starts going into overdrive about all the stuff I have to do in the 45 minutes before my kids get out of school.
So I'm pledging to move more. Our new family "tradition" is to throw on a couple of songs after dinner and have a dance off. No trying to be cool or even be on rhythm. Just move your body and see how crazy you can get. Which is awesome for me since I have no rhythm. I fit right in.
Not only that but I'm back to my daily 1-mile walk. It's just one time around the block, but there's hills so I feel like I've walked further than I have. Even walking at a slow-ish pace, it still only takes me 15 minutes.
So that's your challenge – find someway you can move your body to try to get more energy. A few suggestions:
Choreograph a dance to one of your favorite songs.
Set an alarm to go off every hour and get up and move!
Head to the library and get a new exercise DVD.
Take a walk after dinner (or before dinner).
What do you do to be active? Let me know how you're doing with the self-care challenge so far!