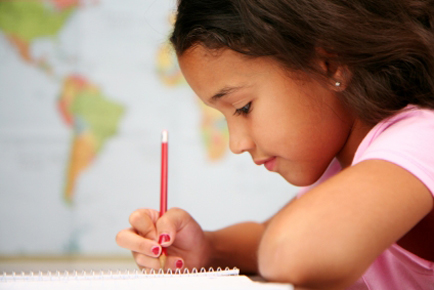 Actually, that title is a lie and I'll tell you why I worded it like that intentionally.
Until about three weeks ago, my daughter was one of two black kids at her school. One (a boy) is in the grade above her. And then it's her.
The school is fantastic in every area…except diversity. To be fair, it's a private school located in an "excellent" public school district (as rated by the state) so why would parents even pay to send their kids to a private school in the first place? (I chose the school because my daughter was a bit timid and I wanted a school with smaller class sizes and more one-on-one attention during her transition to school.)
For all of kindergarten and the first month of first grade, she was the only black student in her class. She was quiet (much more than she usually was in daycare and preschool), very smart but timid. All of her teachers would remark on how shy she was.
Then three weeks ago, another black student transferred to her school (to her class) and it has been like night and day. I chaperoned on a field trip and had the two of them in my car and they giggled together in the backseat like they had been friends since birth. It was amazing. My daughter had confidence that I had never seen before.
So of course I start over-analyzing everything. Ugh, am I screwing her up because she doesn't get any reflection of herself in any of the people she's coming in contact with every day? Does she have a negative self-image? I was hoping that this wouldn't be an issue because she's so young, but maybe it doesn't matter? Maybe everyone, even babies, like to see themselves reflected in the world they live in? 
While I'm going all Psych 101 on myself, I switch gears. Maybe they've just bonded because she's "the new girl" and SHE'S the one gravitating to my daughter? 
So now I'm trying to make sure she's okay. That she can thrive in any environment and she knows how special she is. So far we haven't had any problems with her wanting to look different or having her ask me questions where she's questioning why her skin is brown and her classmates are a "peachy-color" (her brother's words). So the best I can do at this point is to continue to talk to her and assess what environment might be best for her. Maybe I'm overreacting. Maybe I'm not.
Have you ever dealt with this, feeling like your child might not be fitting in somewhere as well as you'd like?