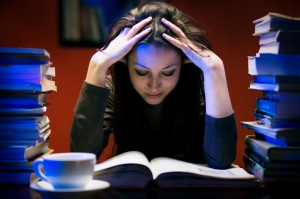 Will someone please come get me?
This is week three of classes and I'm thisclose to needing a break in a room with padded walls.
It's not even the courseload (although I could honestly do without having a paper due every week…sigh). It's the other students.
One of the courses I'm taking is an undergraduate course. It's a senior level course, but with added work and requirements to make it suitable to count toward my degree.
I get to class a little early and all the conversations around me sound like this:
"OMG, we have to write a 4-page paper AND do a 15-minute presentation? Does she know I have better things to do?"

"So…I'm thinking about getting a new car….yeah, I know I already have a 2008 truck, but I want to upgrade, you know? My mommy said she'd pay for it."

"It is SO hard to wake up before 11 a.m."
Ugh – someone put me out of my misery!!! These kids (yes, kids) have no clue how hard life is going to get once they're outside the cushy comfort of academia. Newsflash – this is the easy part! When you just have to worry about one person – YOU! Why are you complaining when your mom pays all your bills? When your biggest worry is whether you'll make it home in time to catch Jersey Shore?
Try going to school when you have a kid (or two or three), a full-time job, a husband who doesn't know what you look like without the glow of the computer screen on your face, and serious case of sleep deprivation. (By the way, I wrote this blog post during a class break – multitasking at its finest, ladies!)
I know I might have sounded just like them before I had kids, but motherhood has a way of knocking you on your ass that alters the way you think forever. And these childless chicks? Maaan, they're driving me crazy!
Thanks for listening to me vent! Can anyone relate to me out there?