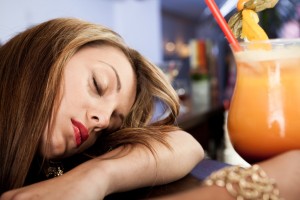 I wrote this post called "Should Married Folks be Clubbing?" a while back, and I realized I hadn't ever really explored that topic here, as it pertains to moms. Just when I thought I had run out of things to write about, right?
I have not been to a club since my oldest was born three years ago. But truthfully, I had only been "out" once or twice before I had her, so I don't think I'm missing much.
I asked the moms on our Facebook page, "Should moms be clubbing?" and the page blew up. Within minutes, we had 20 comments.
Most moms were in the YUP, MOMS NEED TO PARTY WITHOUT GUILT side:
Barbara wrote:
There are a lot of people who are very quick to place mothers in the same category as a nun or saint. It's as if, once you become someone's mother, you are no longer allowed to be a woman/an individual/etc. Being a mother is NOT a death sentence nor a license to be dull.
Itxel wrote:
All mommies are women and deserve to feel sexy and have fun once in a while but never forgetting that after motherhood, priorities are much different, and motherhood is FIRST.
Erica W. wrote:
Becoming a mother doesn't equal giving up your life! Since when did going to a club make a woman a bad mother? So what if your kids see you going to a club…what exactly is wrong with that? As long as you're taking care of home and carry yourself like a lady, I so go for it!
Then there are the moms in the STAY YOUR BUTT AT HOME (kinda) camp:
Latonya wrote:
I do think we should choose wisely the places we go. I don't have a problem with drinking or dancing, but quite a few clubs I have been to have ended with fights and shootings so for me I choose not to go to clubs because you never know what will go down that night. Of course, I understand that all clubs are not that way. I personally rather not risk it.
Erika K. wrote:
Choosing to have a child young means being different from your peers. You still have the urge to keep up with your friends but you cant. I tried being 22 and a mother and it took some time for me to meld into the role. Every chance i had a break, I wanted to let loose like the rest of my friends but soon realized a baby and a hangover dont mix.
What side do you fall on?