2014 has been a year for me to stop just "playing like a grown-up" but actually becoming one. I'm upgrading my life in all the ways that matter and carving out the space for me to determine what a adult Tara really enjoys.
One thing I'm getting back to is taking better care of my skin. In my teens, I had this elaborate skincare routine that kept me looking impossibly young and acne-free. I can count on two fingers the number of pimples I've had. But then I had my kids in my 20s and my skin has suffered for it. I washed my face maybe once a week. I grabbed whatever creams I was putting on my kids and dabbed a little on my feet so my cracked heels wouldn't scratch my husband at night. I stopped using face masks and just…went about my life.
But I miss it. I miss feeling pampered and taking good care of what is my body's largest organ. My good friend Jennifer Jones launched a line of body butters last year, through her company Layers of Me, and she asked if I'd like to try it out. Of course, I said yes!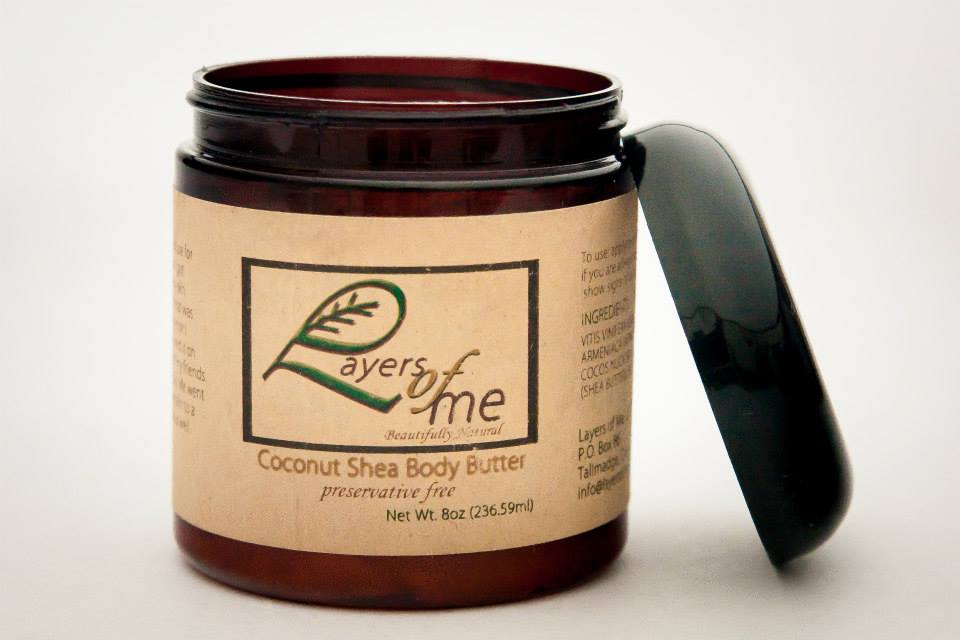 Jennifer is a homeschooling, PhD-pursuing, stay-at-home mommy of two under 4. She had been making the body butters for her family and friends, until it hit her one day that she could be selling it and using the money to support her family! She gave me the Coconut Shea Body Butter to use and I'm impressed!
What I love most about this product is that the ingredient list is made with fully recognizable ingredients: grape seed oil, apricot kernel oil, glycerin, coconut oil, shea butter and beeswax! No preservatives or harmful chemicals of any kind. I've actually used all of these ingredients (minus the beeswax and glycerin) as moisturizers on their own, so having them together in one product is a joy. Plus, I like the fact that my money is going toward a mom who is trying to make her mark on the world, just like me.
I've been using this product on my body from head to toe for a little over a week now, and my skin is softer and retains more moisture than it has previously. I give it a 10. She also has a Mango Shea Body Butter that I know is divine.
If you decide to order it, know that the body butter is unscented. I find this to be a plus, because most of the artificial fragrances on the market aren't good for sensitive skin and could cause more problems than they're solving!
Support moms making it work and try Layers of Me. Stay tuned for more products and sale on its Facebook page.