This post is sponsored by American Heart Association, but all of the opinions and stories are my own.
"Mommy, how come every time we go to the grocery store we have to stop in the bakery section?" my daughter asked me a few months ago.
I stopped drooling over the chocolate fudge cupcakes and cinnamon rolls long enough for my attention to snap to her. "What?"
"We always stop right here," she continued. "You must really like sweet stuff."
Until that point, I didn't think much of my sweet tooth gone wild. I like cookies and cakes and pies and brownies. Sue me.
"I do like sweet stuff," I told her as I picked up a six-pack of cupcakes and put it in the cart.
Her words — "why do we always have to stop in the bakery section" —stuck with me for the rest of the day. Until that point, I hadn't realized I was eating dessert (very good dessert) every night, and it was usually the highlight of my day.
I didn't think it was a big deal. I don't smoke; I don't drink. Surely one, or five, cupcakes wouldn't kill me, right? I ate brownies the way other women have a glass of red wine after a rough day. It's a reward, a treat for making it through drop-offs and pick-ups, making dinner, checking homework and nighttime reading.
Truthfully, I am an emotional eater. I let my sweet tooth call the shots when I've had a stressful day or am faced with something I'd rather not confront. It is easier to cut yourself a slice of cheesecake than it is to admit your marriage is in trouble, or your career isn't progressing as fast as you'd like. It's easier to inhale the calories and stuff them down on top of those negative feelings, so you don't have to deal with all the ways you feel like you're failing.
I quickly realized I was setting a poor example for my kids. I want my children to be strong enough to go through life without crutches. I want them to be strong enough to handle what comes at them without diving into the nearest carton of ice cream.
Not only was it setting a bad example, but it was taking its toll physically. In the midst of keeping up with a busy work schedule and producing my first national event, I gained 10 pounds in the blink of an eye. I realized the "fast-ish" metabolism of my 20's was slowing down, and I'd have to be intentional when it came to making my health a priority.
I'm proud to team up with the American Heart Association for its #LifeIsWhy™ campaign, mobilizing moms to get active and lead their families to better health.
After watching their video campaign, I decided to make a few changes.
First, I had to tackle my emotional eating.
I made three rules:
I only eat dessert on the weekend
Whatever I eat, I only have a single serving
It has to be something I am really, really craving. No more mindless cookie chomping just because it is in the house.
I recommitted to 3-4 days of exercise each week (I feel like a regular at the gym now!), and I'm bundling the kids up to let them play outside in this crisp fall/winter weather. I've been saying that having a healthy family is a priority, but I haven't been treating it like one.
I want to be around for a long time, to hug and kiss my great-grandchildren. That legacy starts with the actions I take today.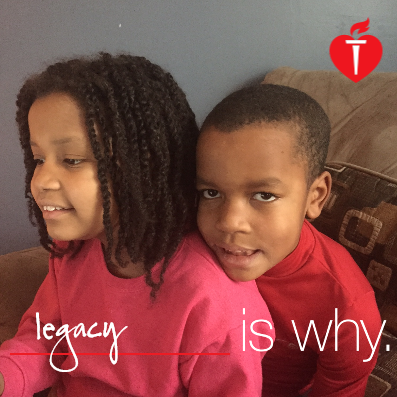 Join me by visiting LifeIsWhy.org and sharing YOUR why on social media using the #LifeIsWhy hashtag.