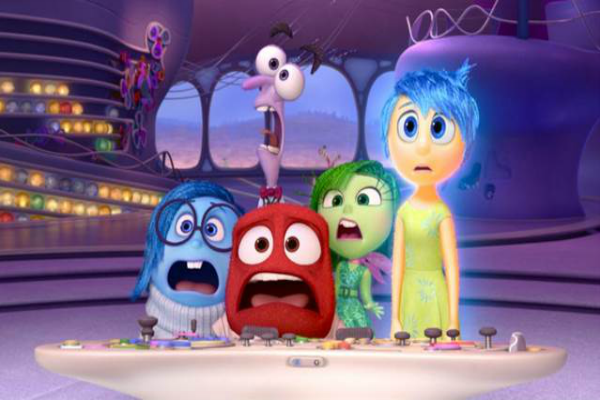 Out of my top 10 movies of all time, any genre or any time period, three of them are animated movies. Currently "The Princess & The Frog" (for fulfilling my childhood dream of having a Disney princess who looked like me and then ALSO giving me a Disney princess who had my work ethic), "The Lion King," and "The Incredibles" all are on the top of my list.
I never miss a Disney/Pixar movie and so I was as excited as my kids to go see "Inside Out" when it hit theaters. (Fun fact: I went to go see "Toy Story 3" by myself because the kids didn't want to go. Hmph.)
I think it goes without saying that I cried before (thanks to the short film, "Lava"), during and after the movie. "Inside Out," a movie about an 11-year-old girl's emotional struggles over her family's recent cross-country move, got me right in the feels. Here's four things that made me bow to the powers that be at Pixar:
#1 There's no villain and that somehow made the movie….better.
I kept waiting for some character named Puberty to jump in the fray and just cause the plot to go haywire. But a villain never appeared. I think it's a credit to Pixar that Anger wasn't a "bad" emotion. He was there to serve a purpose just like the others. "Inside Out" is on par with Wall-E and Up, movies that wouldn't seem to work (a trash robot? an old man floats his house away?) but are so emotionally rich that you're changed by the time the credits roll. I'm willing to bet that the original version of "Inside Out" DID have a villain, but the writers smartly recognized that they didn't need one.
#2 Everything you thought you forgot about childhood comes back in focus.
The imaginary friends, the panic of the first day of school, excelling at something you love for the first time—"Inside Out" had me in tears remembering moments from my past that I had long forgotten. I think it hit my daughter, who  is only a few years younger than the main character, in the same way. As I wrote on Facebook, it was the first time she cried at a movie and I wasn't surprised that this is the one that sparked those tears.
#3 The animation was so rich.
As a whole, this movie is based on an abstract idea. How do you make audiences feel like they're inside someone's brain? The animators at Pixar managed to create a world that was simultaneously new and inspiring but comfortable and realistic. "Headquarters," where a good chunk of the movie takes place, seems like a perfect fit.
#4 It's a great springboard for teaching kids emotional literacy.
I've noticed that ever since we left the theater, I've been able to call upon the characters of "Inside Out" when my children are having difficulty with their emotions. When my son was pissed at his sister, I said, "So you feel like Anger right now, don't you?" And he knew what I was talking about and we were able to talk about what comes next.
 If you saw it and loved it too, do share with me in the comments what you loved most: