There is nothing quite like the rush of relief and the feeling of accomplishment that accompanies graduation day. For millions of student-parents around the country, that feeling is magnified by the fact that their kids are there to share in their celebration.
As someone who has done the student-parent thing twice (as an undergrad and a graduate student), I know first-hand the difficulties that come along with the role. I created this #WeSaluteYou campaign to give these women a platform for their accomplishments! Please join me in celebrating them and giving them a virtual high five!
[Three of the young women featured—Angeline, Kenedra and Jamila—are Generation Hope alumnae. The D.C.-based nonprofit focuses on college completion for teen parents.]
Angeline Palmer, George Mason University
"Attend class, ask for help, do not give up on what you want to study no matter who tells you to change your major. Keep in mind that you cannot be unemployed so make sure that you have skills for a backup job that you enjoy. Take time for your children, because they grow up while you study. Remember that your journey is specific to you so do not think that the grass in greener in your sisters college experience, your best friends job, or the stranger's life who just cut in front of you in line."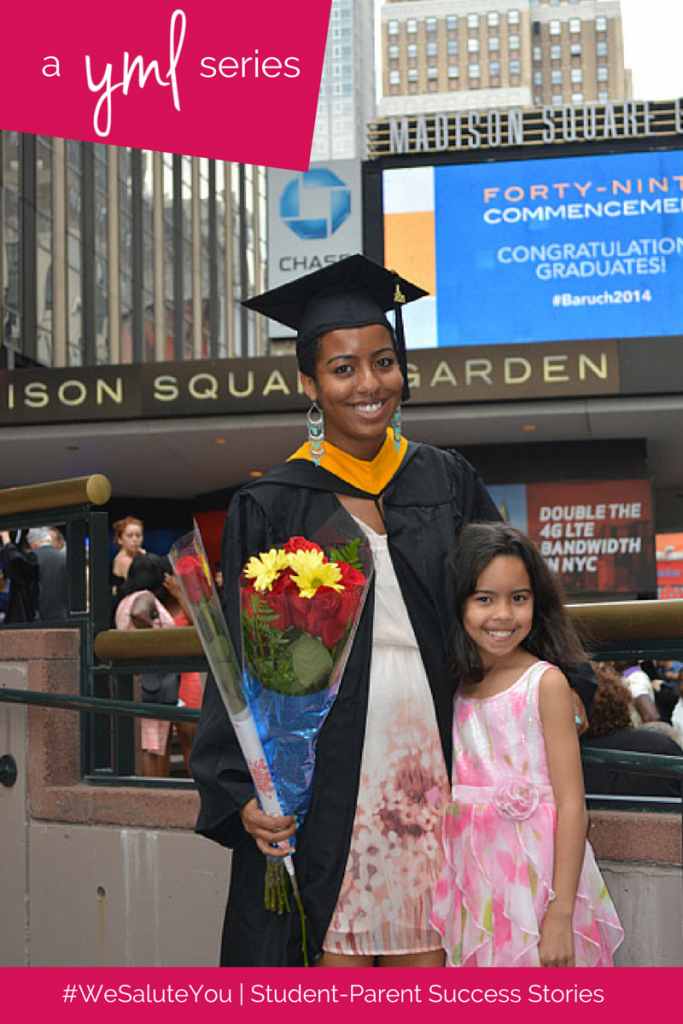 Gloria Malone, Baruch College
"All the hard work does pay off. It really does."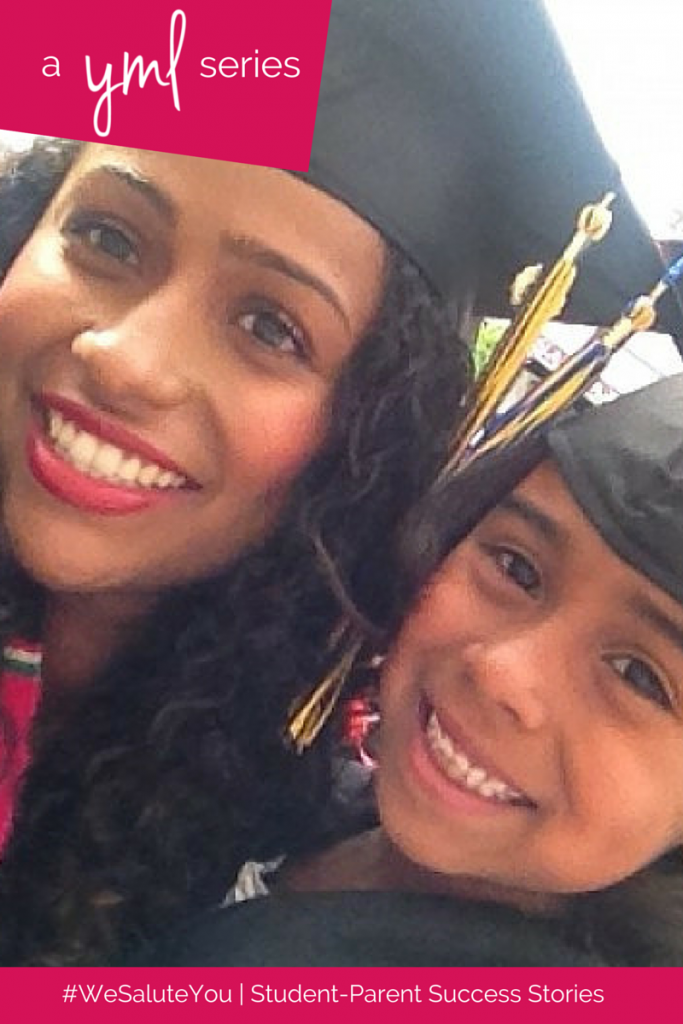 Julissa Muñiz, University of California, Berkeley
"The beautiful little girl in the picture next to me is Amaris, my seven-year-old daughter. I took that picture almost a year ago as we waited in line hand and hand, ready to walk across the stage of the UC Berkeley RAZA Graduation Ceremony. Moments later, I had the privilege of sharing that stage and that accomplishment with the one person I have always sought to make proud—my little human being.
As I move forward with my academic endeavors, I realize that my lived experiences as a low-income, first generation, teen mom, student of color that have taught me just as much, if not more, than anything I could have ever learned in the classroom."  
[Ed. note: Julissa is currently fundraising for tuition for Harvard's Graduate School of Education. Check out her GoFundMe page and donate if you can!]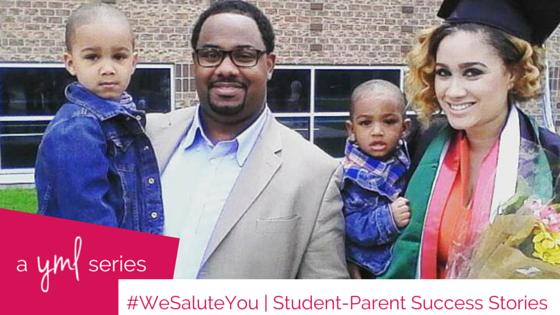 Lauren Kent, Chicago State University
"Even though it's hard and may seem impossible, continue on knowing that you are doing something for the betterment of yourself and your children and that is immeasurable. You will need a lot of love,  support,  and BELIEF in oneself, but you can make it through. I had both of my children DURING my college career. Even went back just two weeks after having my second son. So if you want it badly enough, you can achieve it!"
 Jamila Williams, Marymount University (photo by Carla Lutz Photography)
"Fight the battle and win. The battle is the stigma that young parents will most likely not finish college; however, there are so many of us that are doing it! Find an excellent support system whether that's family, friends, co workers, etc. My support system consisted of all of the above, in addition to my academic advisers, professors, and supervisors. It takes a village to raise a child and to continue this journey with patience and grace. It WILL NOT be easy, however there are many who have made it through and are waiting on the other side chanting and waiting for you to complete your college journey! This is only the beginning of blessings coming your way!" 
Kenedra Burton, Howard University
 "You can't get mad at people who say you can't do it. You can only get mad at yourself for believing them."
Are you a student-parent graduate and want to be featured? Send in a photo of yourself from graduation, along with details of your degree and one piece of advice you'd give current student-parents! Email me at tara(at)theyoungmommylife(dot)com.