I made this dish on Friday as a "Congratulations, it's the end of the week!" dish for me and my husband. It's pretty affordable (especially if you catch the shrimp on sale) and comes together quickly. Try it for your next date night.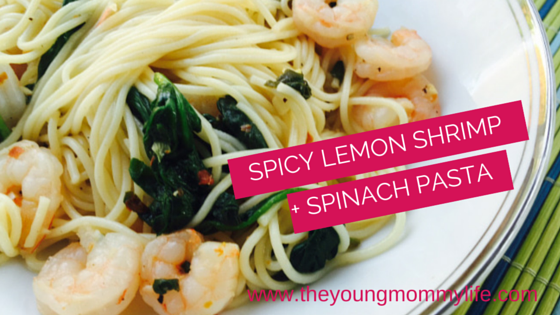 Ingredients:
1/2 pound angel hair pasta
2 garlic cloves, chopped (use more if you really like garlic!)
2 teaspoons olive oil
1 teaspoon red pepper flakes (use more or less depending on how spicy you like it)
1 lemon (zested and then halved)
2 big bunches (handfuls) of fresh spinach
3 big splashes of white wine (I used pinot grigio)
1/2 cup of vegetable or chicken or seafood stock/broth
1/2 pound shrimp, tails off
Salt and pepper
Parmesan cheese (optional)
Directions:
Cook pasta according to package instructions. Take the shrimp and season with salt and pepper. Set aside.
While pasta is cooking, sauté the garlic cloves in the olive oil over low heat until softened. Add the red pepper flakes and the lemon zest. Toss in the spinach and cook for 5 minutes, or until wilted. Pour in the wine and cook for 5 minutes to let the alcohol cook out.
Add the stock/broth to the garlic-spinach-wine mixture and stir. Season with salt and pepper.  Add in the shrimp and the drained pasta. Squeeze lemon juice over the entire dish and toss to combine.