As K. Elizabeth and I promised during our Mommy Camp 101 Google Hangout, here are 50 things you can do with your kids this summer! This list, of course, is really endless. Anything you do with your kids can be fun—just remember that attitude is everything! (Below the graphic are some links to how-tos!)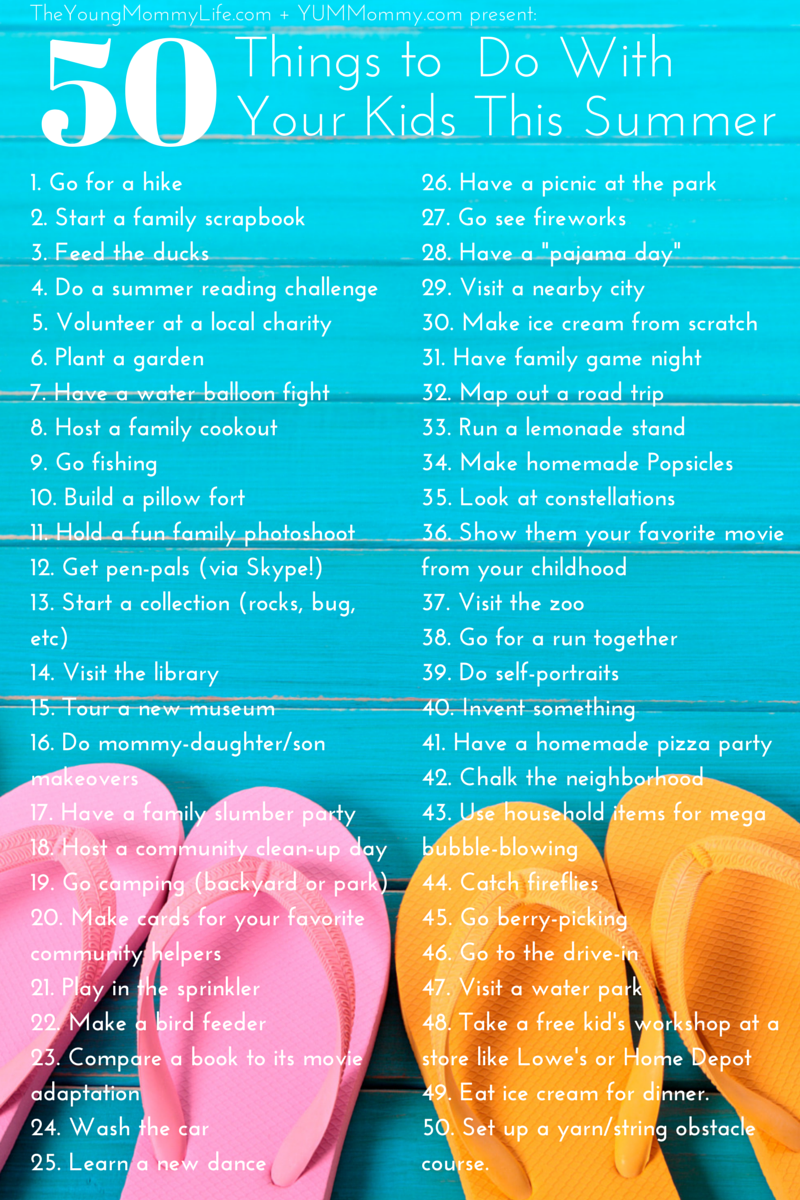 1. Go for a hike
2. Start a family scrapbook
3. Feed the ducks
4. Do a summer reading challenge
5. Volunteer at your favorite local charity
6. Plant a garden
7. Have a water balloon fight
8. Host a cookout with family and friends
9. Go fishing
10. Build a pillow fort
11. DIY family photoshoot
12. Get pen-pals
13. Start a collection (rocks, bug, etc)
14. Visit the library
15. Tour a museum
16. Do mommy-daughter/son makeovers
17. Have a family slumber party
18. Host a community clean-up day
19. Go camping (backyard or park)
20. Make and pass out cards to your favorite community helpers (firefighters, public librarians, etc)
21. Play in the sprinkler
22. Make a bird feeder
23. Read a book that has a movie adaptation and compare the two (Try Harry Potter or Cloudy With A Chance of Meatballs)
24. Wash the car
25. Learn a new dance
26. Have a picnic at the park
27. Go see fireworks
28. Have a "pajama day"
29. Visit a nearby city
30. Make ice cream from scratch
31. Have family game night
32. Map out a road trip
33. Run a lemonade stand
34. Make homemade Popsicles
35. Look at constellations
36. Show them your favorite movie from your childhood
37. Visit the zoo
38. Go for a run together
39. Do self-portaits
40. Invent something
41. Have a homemade pizza party (try this upside down pizza recipe!)
42. "Chalk" the neighborhood
43. Use household items for mega bubble-blowing
44. Catch fireflies
45. Go berry-picking
46. Try some yoga (grab some towels and do it outside!)
47. Visit a water park
48. Take a free kid's workshop at a store like Lowe's Build & Grow or Home Depot's DIY Workshops
49. Eat ice cream for dinner.
50. Set up a yarn/string obstacle course.