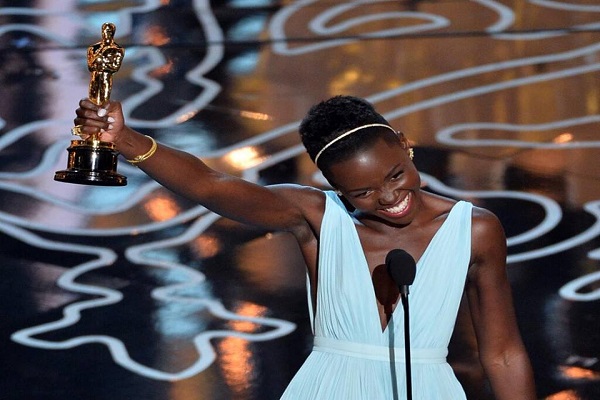 Unless you've been hiding under a rock for the past few months, you should definitely recognize the name Lupita Nyong'o. If the name doesn't ring a bell, she's currently Hollywood's "it" girl, who's turning heads this awards season in beautiful and well-chosen gowns all while becoming a household name from her breakout role in the blockbuster "12 Years A Slave." She's not just being recognized for her acting — which for a new actress is pretty phenomenal, but also for her beauty.
The stunning Kenyan beauty was honored over the weekend at the Essence Black Women in Hollywood luncheon where she revealed parts of her painful journey through in the valleys of self-hate. She admitted that she used to be so unhappy in her dark brown skin that she'd bargain with God during her nightly prayers to lighten it. She wanted it because in her young mind, lighter skin portrayed what was socially accepted as beautiful, especially considering that's all she saw in the media. Only after finally seeing a face similar to hers celebrated, did she become empowered to walk boldly and hold high the cards that she had been dealt.
Now, one would think that society has evolved to a place where all kinds of people would be readily accepted. And to an extent, that's true. We have the first African American President in history and same-sex couples can now, in some states, be legally married. Yes, we've come a long way in terms of what's socially accepted.
But there are still little girls and boys who watch television, read magazines and view movies filled with images of people whom society deems as beautiful that don't match up with what they see staring back at them in the mirror. Even as mothers, we look at other women who may be thinner, dress better, have better hair, be more educated, more put together, more creative than we are and think that somehow we dont measure up or were not as special. It can make you feel some type of way no matter how old you are.
But Lupita's story of triumph is inspirational in many ways. She's single-handedly reworking the conversation of what is considered beautiful and I love that. She's unconventionally beautiful and that fact alone is shaking things up in a way that's making people look at themselves in a new way.
She's encouraging us to overlook our flaws and the things we see as inadequate, just like she did with her skin, and really challenging us to see our true beauty and worth. No, she's not Beyonce or Meagan Fox beautiful. But she's Lupita Nyong'o beautiful and she's showing us that whatever kind of beautiful you are, is just that. It's still beautiful. And just like Beyonce inspired us to embrace our femininity and maturity, she's inspiring us not just to wish for beauty but to consider ourselves AS beautiful just the way we are. And the lovely thing about her being an inspiration to us is that she recognizes it and hopes that her "presence on screens and in the magazines may lead you …. that you will feel the validation of your external beauty but also get to the deeper business of being beautiful inside."
So whoever you are, wherever you're from and whatever you look like, just be you and be beautiful.