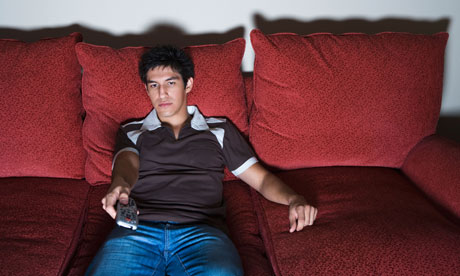 What I'm going to say is not going to be popular, but here it is:
If your husband doesn't pull his weight around the house, well, it might be your fault.
*ducks* WHO THREW THAT SHOE AT ME? Let me explain.
Sometimes (and I mean sometimes) we expect our husbands to rise to our expectations when we've never fully explained what those expectations are. We add one, two, three kids to the mix and we've never had those conversations about how we expect our partner to act.
We never sat down at the beginning of the relationship and said that we'd prefer if they helped with dinner before sitting down to watch SportsCenter. We never told them that the version of marriage we have in our head requires them to bring us flowers a few times a year as a thank you for how hard we work. We never told them that coming home to a clean kitchen is a form of foreplay. (And if you HAVE told them this, that's another post for another day.)
If you're reading this and feeling discouraged, have no fear. It's never too late to sit down with your partner and figure out how to regain a little equality in the household. Here's some tips to getting things a bit more balanced:
1) Be positive. Start with what your spouse does RIGHT. Launching into a tirade about how much he doesn't do will likely make the rest of your conversation fall on deaf ears. Did you ever hear about the sandwich technique? You begin with a compliment (or a positive), give some constructive feedback and end with something positive. How does this sound in action?
"Honey, I love that you cut the grass every week, but do you think you could wait until after dinner to do it? I could use your help in the kitchen and getting the kids fed during that time. Then you could mow the lawn while I get the kids in the bath. Does that work for you?"
2) Be specific. If there's anything I learned in the past few years of marriage, it's that men need specificity. What does this mean?
WRONG: "Hey, can you help me with the laundry?"
RIGHT: "Can you get the clothes from the hamper and put them in the washer?"
Specificity insures that there is no misunderstanding and that both parties know what it being asked.
You see where this is going? All about working together solutions versus getting stuck on the problem. Read the rest of my suggestions over at Mommy Noire.