I had plans on making spaghetti loaded with vegetables, so when my son jumped up and joined me in the kitchen, I decided to let him take the lead and make us dinner. He could add the vegetables in himself and then chow down on the meal he prepared.
This is what he came up with. I suggested a few tweaks but the boy is a natural! Four years old and running things in the kitchen. Son, I salute you! (Note: Don't be intimidated by the list of ingredients. Just dump it in the crockpot and let it cook.)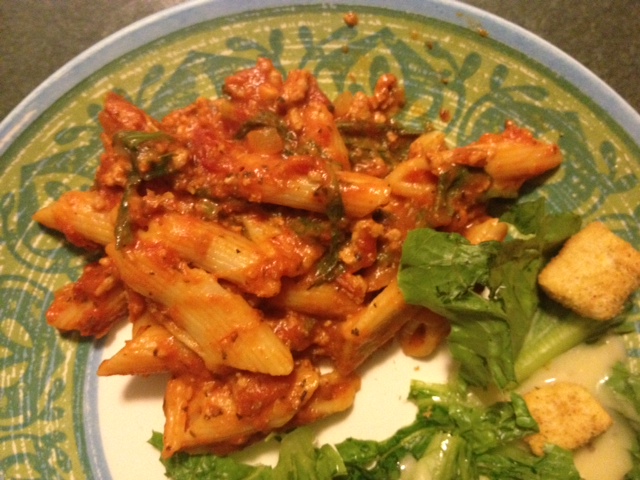 Pasta So Easy A Four-Year-Old Can Make It (Or, "Thomas Pasta") 
Ingredients: 
1/2 pound ground turkey or beef
1 small zucchini or yellow squash, chopped or grated 
1/2 cup red pepper, chopped
1 tablespoon ketchup 
1 teaspoon oregano 
1 teaspoon basil 
1 teaspoon sugar
1/2 teaspoon salt
2 bay leaves (optional) 
1 23-oz jar spaghetti sauce (any brand but try to get a "chunky" garden veggie style)
1 can diced tomatoes 
1/2 pound of pasta (any shape will work) 
2 good handfuls of fresh or frozen spinach (if using frozen, thaw it and squeeze it dry first)
1/2 cup mozzarella cheese (again, any cheese would work here) 
Directions: 
Brown the turkey or beef in a small skillet. Drain. Add it to the bottom of the crockpot.
Add the next 10 ingredients (stopping at the pasta). Cook on high for three hours.
Add the pasta and cook for 25-30 minutes or until the pasta is cooked through in the sauce. Add the spinach and mozzarella cheese and stir.
Enjoy!