I've written extensively about education on this blog. From my own posts talking about my quest to get this graduate degree before my sanity runs out or my posts on helping my daughter get her educational career off to a great start, I think I've made it very clear that education and the process of bettering yourself is very important to me.
So when General Mills asked me to participate in its African American bloggers panel for its Box Tops for Education program, I jumped at the chance. If you don't know, Box Tops is a school fundraising program where anyone can clip out the little 10 cent coupons on various General Mills products and mail them in to get a check for their school.
See? I was able to grab five products in my kitchen in less than five minutes. Clip out those little coupons and it adds up to $.50 pretty quickly. The bonus is that these are the products I already buy so it's basically throwing away free money if I don't use them. I admit I had not been the most diligent about clipping these coupons, only remembering when my school would send out a reminder.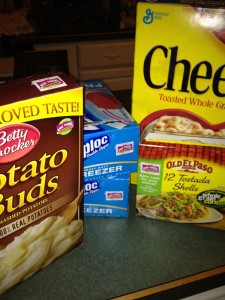 But I've learned that those little coupons do add up. In the past year, schools have earned $74 million and since 1996, Box Tops has given away $475 million. My school definitely could use a piece of that pie. I think I'm going to sign up to be my school's Box Tops coordinator next year, as I think it's a great way to 1) be involved in the school and 2) help the school reach its fundraising goals without having to dig deep in your pockets.
The Box Tops blogger panel were brought in for National Box Tops University, a two-day gathering of Box Tops coordinators, all ready to share their stories of how they were able to raise thousands of dollars for their schools. It was truly inspiring, as the schools used the Box Tops money to fund everything from anti-bullying programs to dance lessons to library upgrades.
But beyond that, I had an amazing time with General Mills. We got to tour their headquarters, get a lesson in lifestyle and food photography (I need a new camera ASAP), and learn about making ourselves stand out online. My fellow bloggers were my kind of people, as we spent the majority of the time laughing and getting to know each other better.
The headquarters were beautiful. Lots of bold colors, open spaces, and amenities that let you know they really cared about their employees. The headquarters had a fitness center, company store, salon, daycare, deli and Caribou coffee shop. I wanted to stay. LOL.
I'll be updating you with more photos and more info about Box Tops throughout the week, but I wanted to remind you that there is money out here for your school, so don't overlook it!!
Disclosure: As part of my participation in its Box Tops for Education African American bloggers panel,  General Mills covered the cost of my transportation, hotel accommodations, meals and other expenses.