I've already written about the media's obsession with pre-baby and post-baby weight and why the two should never ever stray from each other for too long (like, a month tops).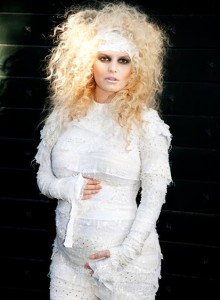 But I feel the need to revisit it again. I recently read that Jessica Simpson (currently, I dunno, five, six months preggers?) signed a $3million dollar deal with Weight Watchers to help her lose the baby weight.
(Before I get into my rant, a side note: $3 million is a pretty sweet deal, I won't lie. I've written openly about my struggles to remove the blubbery mass from around my midsection and I know I haven't helped the process with my addiction to all things sweet and delicious. And I don't necessarily want to go into the distinction between "real" moms and celebrity moms because if I had that kind of money, I'd like to think I was a "real" mom too, just with waaaay more money and resources.)
But I do want to say that we've got a long way to go in terms of accepting what pregnancy actually does to the body. In some cases, it's rough. I didn't know that I wouldn't walk out of the hospital in my pre-baby jeans. After all, with both of my kids I was mostly belly. Only gained about 20 pounds each time and I popped out nine pound babies so I figured it would take a couple days for my bump to go down and then I'd be set.
Did.not.happen.
Things shifted in ways I didn't expect. Boobs went out, then in, then down (a bit). Belly went from being round and full to being saggy in parts, wrinkly in others. Arms were full of muscle from holding a baby (and then a toddler) all day. Booty did not get bigger (until the second pregnancy, and even then, not by much).
And I felt bad about that for a looooong time. I was breastfeeding, which they said would help me lose weight. They lied. All it did was make me super hungry, which I suppose is okay because my body was probably telling me it needed more calories to nourish the baby. Fair enough.
So it makes me wonder why we don't allow mothers the opportunity to simply be. I used that "I just had a baby" excuse for the longest and felt bad about it, but why should I? Bringing forth life and then birthing a child and taking care of a child is incredibly demanding and yes, I think it entitles you to be able to sit on your butt and breastfeed your kid, and not worry about your gym membership for a while.
When we focus on the pounds gained and pounds not lost, we essentially say, "Okay, you've had your chance to be lazy and let yourself go. Now it's back to work!" But creating life is more than just a number on the scale or a waist circumference.
I wish someone would have approached me about doing a magazine spread post-baby. I would have slapped them so hard the lens would have popped out of their camera. I wasn't interested in showing nobody nothing. You know how long it was before my husband saw me naked after the baby? Go ask him. He'll tell you. It was probably a full year.
By offering Jessica a deal before she's even had the baby tells me one thing: we should be consciously thinking about how to get back in shape—no, planning it—before the Braxton-Hicks contractions even start. Really? Is that where we are now?
I say: Screw that noise. Get pregnant, eat your cravings, listen to your doctor or midwife or doula, give birth, enjoy your baby and then decide on your own terms what you want to do to become a healthier you. Don't let the good folks at Weight Watchers or the editors at Us Weekly make you feel bad about not hopping on a treadmill after pushing out a human.
What do you think? Does it make sense that they would offer her this deal?