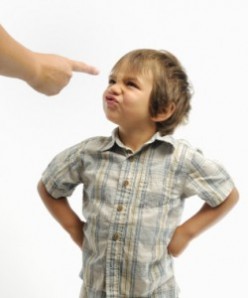 Over at one of my many other jobs, there was a fantastic article on the purpose of "Because I said so." The author wrote:
We believe in a healthy self-esteem for our child and in allowing her to express herself. But something is wrong when parents and children starting communicating like they are the same age.

So, somebody please answer this question for me: What has happened to the days of "Because I said so?" I heard it growing up, and I am pretty sure the majority of the folks reading this are familiar with the parental edict that means no talking back, no asking questions, no trying to persuade me to change my mind. We are doing XYZ because I said so. Period. This doesn't mean a child doesn't have a voice in the home. However, it does mean the child is the child and the parent is the parent.
Amen to that. But there was one comment on the article that made me stop, pause and really think about how I can be more effective with my children when it comes to discipline. I really want them to be critical thinkers, to understand the way the world works and give them the lessons that will help them thrive once they are out of my house. This mom just went and put all types of ideas in my head:
What does "because I said so" really teach them? I believe there are other ways to teach respect for authority other than by just saying "because I said so". We believe that if you instill values and teach them to make conscious decisions in line with their values then they learn to think for themselves, reason, and make decisions in line with what they value versus "because I said so". As they get older and the influence of peer pressure gets stronger, we don't want them to make decisions based on defying "because I said so", as a way to exert their independence, we want them to make decisions in accordance with what they value.

Here is a personal testimony.

My 10 year old son made a conscious decision to write on our freshly painted walls this evening and got caught in the act by his dad. We used that moment to teach yet another lesson in respect and integrity. He didn't respect his room and he didn't do the right thing when he thought no one was looking. The consequences for his actions are that he has to write a paper. He has to define respect and integrity, why it is important to be respectful and have integrity, and explain what it means to him and how he should have applied it to this situation. Not only does he have to write it but he has to type it and present it to the court of Mom and Dad. Our hope is that this will stick with him and be more of a lesson learned that he can apply to other situations as he gets older. I told him when he was 5 not to write on the walls "because I said so" and I strongly feel that "because I said so" is the reason we caught him writing on the walls tonight…lol! He did not align his actions with the values that we are instilling.
That was pretty incredible. I'm not sure I would have come up with anything like that as a consequence of writing on the wall. I bet that son will think twice before doing anything like that again!
What about you? Are you a "Because I said so" type of parent?