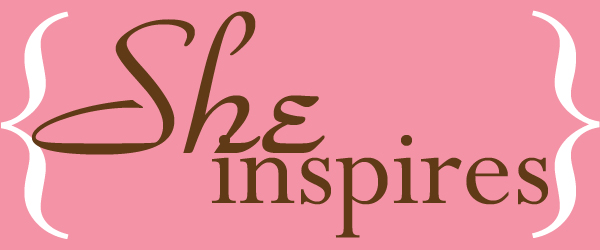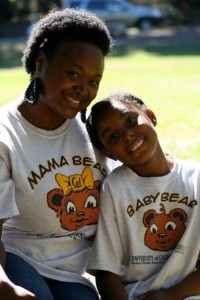 If you've picked up my ebook, Make It Happen, you've probably remember reading about Barbara Henry, the young entrepreneurial mom behind BabySquares. I can't stop looking at all her items for sale, especially now that it's getting colder and all her stuff just looks so cozy. I wanna take a nap in one of her scarves. LOL.
But on a personal note, I love Barbara and have been following her online for years! As a matter of fact, here's what I wrote to her when asking if she'd like to be featured:
I already told you I wanted to feature you in my She Inspires series…here's why. I've been reading your writing for years now and you continually inspire me with your strength and dedication to your daughter above all else. You are truly an exemplary mother and person, and the world needs to know how awesome you are.
Do I sound like a huge fan? 'Cause I am. So please check out Ms. Barbara, and please, please, please check out Baby Squares. She's good people. And she's a whiz with the crochet needles.
Name: Barbara Henry
Age: 27
Blog name/URL: Chasing Metamorphosis
Kids: I'm the mommy of one incredible little 8-year-old.
Being a young mom is…a non-stop adventure with nearly a dull moment!  It's all about growth, creativity and amazing milestones.
When someone says I inspire them, I say
.
..
that I'm really glad to have had that kind of impact on their life, and then I think, "Wow!"  I'm guilty of not always connecting with my own accomplishments or realizing the marks that I've made, so to be reminded in such an awesome and empowering way by others helps keep me focused on continuing to push forward.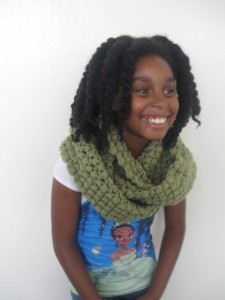 I decided to start Baby Squares because…aside from the fact that crocheting cute things and sharing them with mommies brings me happiness, it was time for me to take a risk by traveling beyond my comfort zone.  I was very afraid to put myself out there, and doing so was more like a leap of faith than a calculated risk, because I made a decision and jumped right in with both feet!  Although I am still learning how to fully view myself within entrepreneurship, this journey centers me among creative minds and beauty, and I get to travel the US through my pieces
Whenever I have a moment of free time I look forward to…the art of putting my mind at rest.  Easily one of the hardest things to master!  Getting caught up on a favorite tv show via Netflix, or getting lost in a good book is usually enough to stop the ball from rolling though.
On really tough days I find my strength in…numbers—the phone numbers of my mommy circle.  They always know just what to say to make me feel like the world is ending just a little bit less on those days.  And when I need an extra reinforcement, I turn to my grandmother.  She's always available with waiting ears and an understanding heart.
My daughter makes me feel like…I'm the most important person on the planet.  We are in that wonderful mother-daughter place where I am the center of her Universe and the knower of all things.  She makes me work harder to be the very best because disappointing her or coming up short just isn't an option.
If my daughter can only remember one thing I taught her, I hope it's…the lesson of shaking off impossibility.  I hope that she will always remember that there isn't any dream to far out of her reach!
I feel like a great mom when…my daughter wraps her arms around me, looks up at me with those big beautiful eyes and blesses me with her bright smile.
The most surprising thing about motherhood is…that it's one hat that you never really want to take off.  Once you've become a mother, and formed a connection to your child, you can't imagine your life without having that child in it.  Motherhood brings with it the most purest form of love that a woman can ever know.
If I could have/invent one item to make motherhood easier it would be…simply, a personal chef a few days a week.  As much as I love creating our favorite meals, I also love coming in to a nice meal every once in a while
My personal motto is… "Today is a brand new day," prompting me to not feel so bad about yesterday.