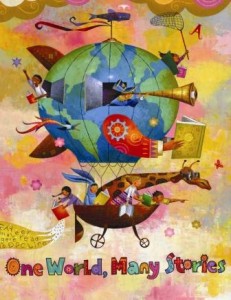 by Gerri Kimble
Vacations, summer camps, amusement parks, and endless days at the pool and playground are all signs of summer!  But an absolute must for your summer to do list is your local library's summer reading program. This year's popular theme:  One World, Many Stories!  Mommies of babies and toddlers, join in on the fun!  These summer reading programs are aimed at children ages 0-12 (there programs for older children and adults, too). You already read to your baby/toddler all the time – why not record it and have a chance at some awesome prizes?
I signed my daughter up for her first summer reading program when she was just a baby.  Boy, did I feel silly signing a six-month old up for summer reading (I was a new mom – I had no clue about a lot of things)!  I read to her all the time, though at that age, she was more interested in turning and chewing on the pages.  Over those few weeks of summer, however, she'd gotten old enough to be more interested in what was on the pages versus how fun they were to turn or eat.  The summer reading program encouraged me as her mom to go beyond the books on our own bookshelf and explore all kinds of other authors and stories.  At the end of the summer, I didn't feel silly at all.  We'd read a world of books.  So we did it again the next summer.
Last week, I went to pick up our summer reading packet for this year (my daughter's 2.5 now), which included a bag with the One World, Many Stories logo, a couple of bookmarks, a sticker, a calendar of summer activities at the library, a free Chick-fil-A kids meal, and, of course, the reading log.  If this will be your first rodeo with summer reading, this it generally how it works*:
Your child (or you and your child) will read a book and then record the number of pages on the summer reading log (some libraries have it where you can enter your books in an online log).  Repeat for every book read.  Your child is rewarded based on the number of pages he/she reads (for those of you with babies/toddlers, you'll be surprised how quickly those board book pages add up).  Rewards range from small toys to books to t-shirts to bikes to circus and event tickets!  The sweetest thing about it is every child gets something.
There's tons of research that shows how summer reading helps foster early literacy skills, and (for those of you with older children) how summer reading advances literacy and academic performance.  What's more important is that summer reading fosters a genuine love for reading and encourages our children to become lifelong library users.
So here's to a fun summer of vacationing, summer camping, swimming, playing, and lots and lots of books!  Happy Reading!
* Libraries differ in rules and prizes.
Photo Credit:  http://cclschildren.blogspot.com/2011/05/2011-summer-reading-club.html