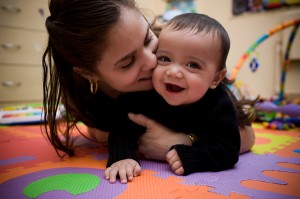 by Amber Wright
Naturally, having a child is a life changing event – in a multitude of ways.
Before you have children, you can only imagine what life would be like. Since my daughter was born I've started to see the world through an entirely new set of eyes.
Here's a list (I love lists) of some of the random things I've seen and experienced that remind me daily, that I'm now a mommy…like, for real (smiles).
10 things I never had to think about until I had a baby…
1) Whether or not Forever 21 had an elevator.

2) If the changing tables I've seen in public restrooms were a) functional and b) disinfected.

3) How I would feel if I suddenly was the one with the crying baby in a public place.

4) That pregnancy is considered a disability in the U.S. by both the EDD and retailers (strollers can only fit in the disabled bathroom stall).

5) A bald spot can actually be kind of cute.

6) How much I'd suddenly have in common with complete strangers.

7) Carrying a plastic bag around is actually a good idea.

8 ) What the C-section shelf was and how it would forever change my waistline.

9) How small my inventory of nursery rhymes with hand gestures is. The itsy-bitsy-spider is on heavy rotation at the moment. #gottastepmygameup

10) The depths of which my heart and soul could feel love.
How about you? What was your biggest eye opener after motherhood/parenthood?