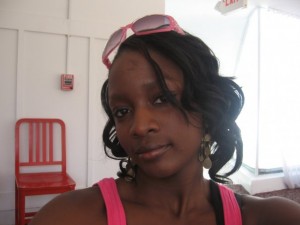 Today's guest post is from Alicia, blogger at MomDelicious, mommy of Aiden, and my BFF-in-the-head (alright,  I admit, I just want to be her when I grow up).
It's sad to say that I don't even remember how I "met" Alicia but she's occupied a cozy place in my life for a little while now. Whenever I kick back and visit her blog, more often than not I find myself nodding in agreement, laughing out loud or some combination of the two. I know I say it about every one, but she's truly awesome.
Check out her post on, as she puts it, how she was "kidnapped into motherhood":  
"Birth is not only about making babies. Birth is about making mothers — strong, competent, capable mothers who trust themselves and know their inner strength."   — Barbara Katz Rothman
This was the quote that my friend attached to the favors for the baby shower that she and my sister held for me.  It's so powerful and speaks volumes to me.
I'll never forget the day I gave birth to my beautiful son, Aiden. As the nurse wheeled me from the delivery room to my recovery room, I felt overwhelmed with emotions. As the tears fell, I thought, I'd just pushed a 7 lbs 9 oz baby out of me sans medicine, but does that mean I'm competent?
I've always had to adapt to create and re-create the life that I want for my son and me. From being in a relationship, to being a single mom to trying one more time with his dad to make a family work (hey, you always have to give it one more try, right?) and now back on my way to being a single mom… I've constantly had to learn to do something different… to adapt.
So here I was this 20-something year old single NYC gal fresh out of college, trying to live-it-up and get my amazing on… when I found myself pregnant.  BAM!  Kidnapped into motherhood.
Stunned, shocked, confused, scared…. eh…. terrified. What about my life? What about my plans for graduate school? What about traveling? What about my church family….
Shunned by my church family, sorta the only family that I had known since I was an adolescent, because of my "mistake," I was left feeling like what should I do?
And let me tell ya'll, it wasn't pretty. At all.
I cried for months — months! — both during my pregnancy AND after my precious baby born was born. I should have been rejoicing, but instead I felt like I'd hit rock bottom. I was in an emotional hole so deep… It was such a low and depressing time for me.
After I'd crashed and reached the lowest of lows, the way I saw it was that I had two choices. I could stay in that depressed state forever. OR… I could pick myself up, dust myself off, and learn the ropes of motherhood.
And because I loved myself and because I loved my son THAT much, I decided that I needed to learn a new lifestyle. After all, I was a new person and had a new lifestyle so I had to adapt to it — design a new pathway to get my son and me where I wanted us to go in life.
What ABOUT grad school? Well, I just had to figure out how to make grad school fit into motherhood. It took a little longer than I originally planned, but I DID it. What ABOUT traveling? Well, I just had to figure out how to fit traveling into motherhood and travel with my son. What ABOUT my free time, my "me" time, my SHOES?! I've had to learn to pencil in some much-needed mommy time, and the shoes… well I still miss being able to buy me a gorgeous, divalicious pair of stilettos every now and then, but hey…
Point is, I was already on a path and that's the way I thought it was supposed to be. But during pregnancy as my belly and bra size grew and then shrank again after pregnancy, I learned to design a new pathway for myself. And my son.
I've adapted.  And I'm constantly adapting, figuring out the logistics and nuts and bolts of motherhood… for myself. And for my son.
And I like this life better. It's the best of both worlds. The golden twenties, ya'll. And it only gets better.